Palestinian Ka'ak (Sesame Bread) are rings of baked dough covered with sesame, and it is very similar to Ramadan bread that is sold in the markets of Damascus and Lebanon, and This bread can be easily prepared at home with this recipe.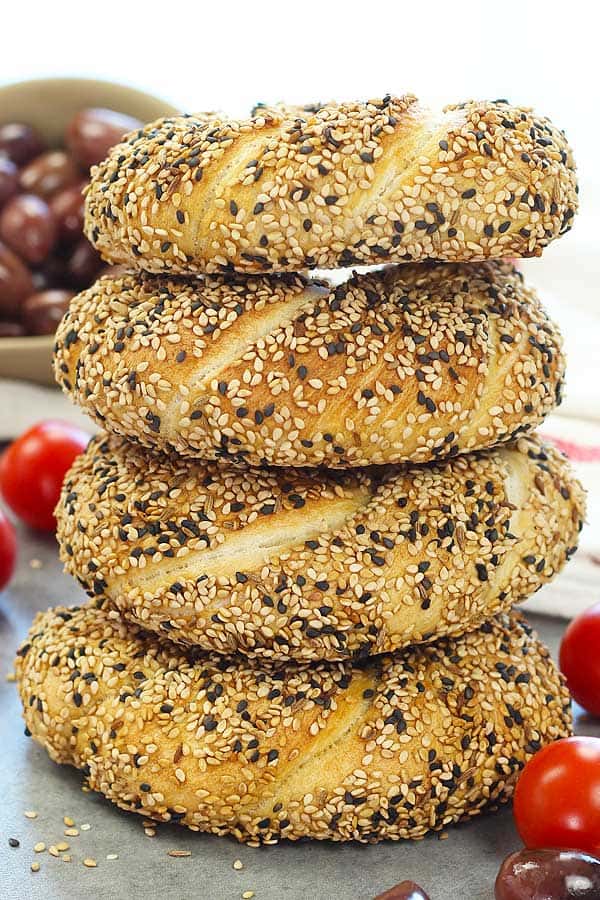 Palestinian Ka'ak (Sesame Bread)
Palestinian Sesame bread are a kind of Palestinian sweet pastries that are sold in the markets of Nablus, and are widely spread during the month of Ramadan.
Ingredients
4

cups

white flour

1

tablespoon

dry yeast

1

teaspoon

sugar

1

tablespoon

salt

Half a cup of corn oil

2 1/2

cups

of sesame

Water

as needed
Instructions
Dissolve the yeast and sugar in a little warm water and leave it until bubbles appear

Put the flour in a bowl, add salt, yeast, oil and knead

Gradually add water while kneading until we get a cohesive dough

Cut it into balls, sprinkle with flour, cover and let it ferment for two hours in a warm place

After the dough rises, take each ball separately and make a hole in the center of each ball with a finger and stretch it to become in the form of rings.

Roll the dough rings over the sesame seeds and put them in an oven tray and bake them at 200 ° C/400°F for about 20 minutes until they are golden and golden

Serve and enjoy your sesame bread!
Nutrition
Sugar:
4.3
g
Fiber:
4
g
Calories:
250
kcal
Fat:
4
g
Protein:
3
g
Carbohydrates:
8
g