Alexandrian Hawawshi is a famous and somewhat popular Egyptian food, and it is one of the varieties that requires a long process and stages in its preparation, but it has a distinctive taste and contains useful nutritional properties because it contains flour, meat, and it is one of the materials that provide the body with energy, and a good amount of Carbohydrates and proteins are important for the health of the body, and many of us think that it is difficult to make and master the Hawawshi.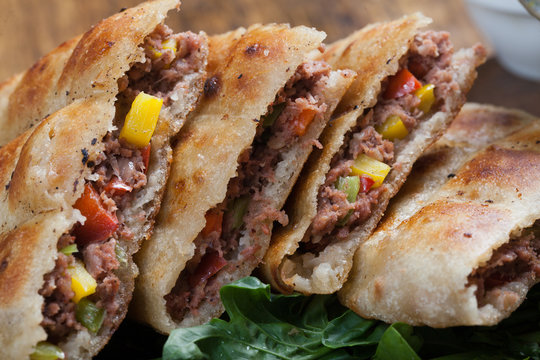 Alexandrian Hawashi
The Alexandrian hawawshi is one of the popular meals that Egyptians love, and it is a bread stuffed with spiced meat.
Ingredients
awawashi dough ingredients

2

lbs

of all-purpose flour

2

tablespoons

yeast

1

cup

of yogurt

6

tablespoons

of oil

2

cups

of water

1

pinch

of salt

1

pinch

of sugar

Filling Ingredients for Hawawshi:

2

lbs

of minced meat

6

onions cut into small cubes

1

Bell pepper and hot pepper

cut into small cubes

1

cup

chopped parsley

1

pinch

of ground black pepper

1

Pinch

of salt and cumin

1

tablespoon

of butter for greasing
Instructions
Start making the dough for the hawawshi by mixing the flour, yeast, salt, sugar with yogurt, water and oil until the dough becomes cohesive.

Divide the dough into small balls, grease it with oil, and leave it for 15 minutes until it ferments.

Meanwhile, mix the minced meat with onions, chopped parsley, bell pepper, hot, salt, pepper and cumin, and stir well.

Sprinkle the marble with flour, roll out the dough, and brush it with butter.

Add the meat mixture to the dough and spread it well on the base. Roll out another dough and also grease it with butter, to cover the dough and the mixture.

Close the loaf of the sides and press well.

Grease the face of the loaf with butter as well, then put it on a tray in a hot oven.

Bake for about 20 minutes

Take out the hawawshi as soon as the dough becomes golden, and serve hot with French fries and pickles.
Nutrition
Calories:
266
kcal
Fat:
8
g
Protein:
10
g
Carbohydrates:
15
g