Ful medames is also spelled like foule mudammes and ful mudammas, or just fūl. This Egyptian Recipe is made of fava beans and served with cumin, vegetable oil; and optionally with chopped parsley, onion garlic, lemon juice, chili pepper, and other vegetables, spice, and herb ingredients.
Bean was one of the most important foods important in Ancient Egypt, one of the most important legumes known to the Egyptian Pharaohs, where it was planted near Ancient Egypt.
Beans may have been carved on the walls of temples around the agricultural crops that were presented by ancient Egyptian Gods including Zkaib ancient Egyptian beans. This means that beans are an ancient Egyptian heritage inherited from generations. The remains of ancient Egyptian bean seeds were found in some tombs of the pharaohs in Thebes, Saqqara, Fayoum, and other areas. In the past, beans were a substitute for meat, as they are rich in basic, necessary and indispensable nutrients. Abdel Basir, a heritage expert of the ancient Pharaonic civilization, says that beans have been used since ancient times as a food substitute for meat sometimes. This is because it has a good amount of proteins necessary for humans because it contains elements of importance to humans that increase the body's immunity against disease
Ful medames is remarkably a staple food in Egypt, particularly in the northern cities of Gizah and Cairo. It is also a typical part of the cuisines of several African, Arab, and Middle Eastern cultures; like in Lebanon, Djibouti, Syria, Iraq, Palestine, Libya, Israel, Jordan, Ethiopia, Yemen, Sudan, Saudi Arabia, and Somalia.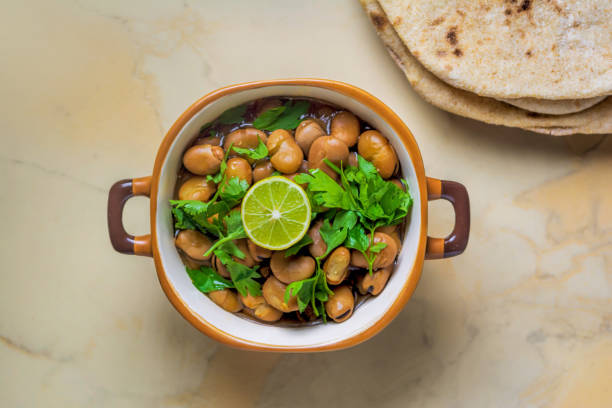 Foul Medames
Ingredients
1

can fava beans

drained

6

tbsp

olive oil

2

tbsp

lemon juice,

3

cloves

garlic

crushed with a garlic press or the back of a spoons

1/2

tbsp

Salt

1/4

tbsp

black pepper

2

hard-boiked eggs

chopped or cut into wedge

1/2

cup

fresh parsley

chopped

2

lemons

cut into wedges

2

tomatoes

chopped

2

green onions

chopped
Instructions
Place beans in a large saucepan and heat over medium heat.

Stir in 2 tbsp. of the olive oil plus lemon juice, garlic, salt, pepper, and 1/4 c. of the parsley.

Cook until heated through and steaming slightly, about 6 to 8 minutes.

Serve beans in individual bowls. Place hard-boiled eggs, lemon wedges, tomatoes, green onions,and the remaining olive oil and parsley in small bowls on the table, allowing diners to garnish and season as they like.
Nutrition
Calories:
333
kcal
Saturated Fat:
7
g
Fat:
12
g
Protein:
14
g
Carbohydrates:
15
g