Bukhari Rice with chicken or Meat (Ruz Bukhari) is a delicious dish from the city of Bukhara, Uzbekistan. This recipe traveled to the Middle Eastern world and finally became an all-time favorite. The rice is cooked at low heat to give its flavor and aroma. This dish, which the princes fell in love with, has many names, and it has rich memories with peoples. It is "osh" meaning the same food among the people of Turkestan, as it represents great importance to them, and they call it "baloo" and it is their main dish on holidays and occasions, and although there is no agreement on the origin of the spread of rice historically, some return it to India, while others attribute it to Central Asia. The story of "Bukhari Rice" and its importance remains linked to Turkestan, the country that loved it. When Alexander the Macedonian conquered Samarkand, its people presented Bukhari rice to him and his army, and he won his admiration, which made him take it with him to Macedonia, and from there rice spread to Eastern Europe. It is believed that the first to document the method of cooking al-Bukhari rice was Sheikh Abu Ali Ibn Sina, who singled out a special section for food, in which he mentioned rice and the advantages of this recipe.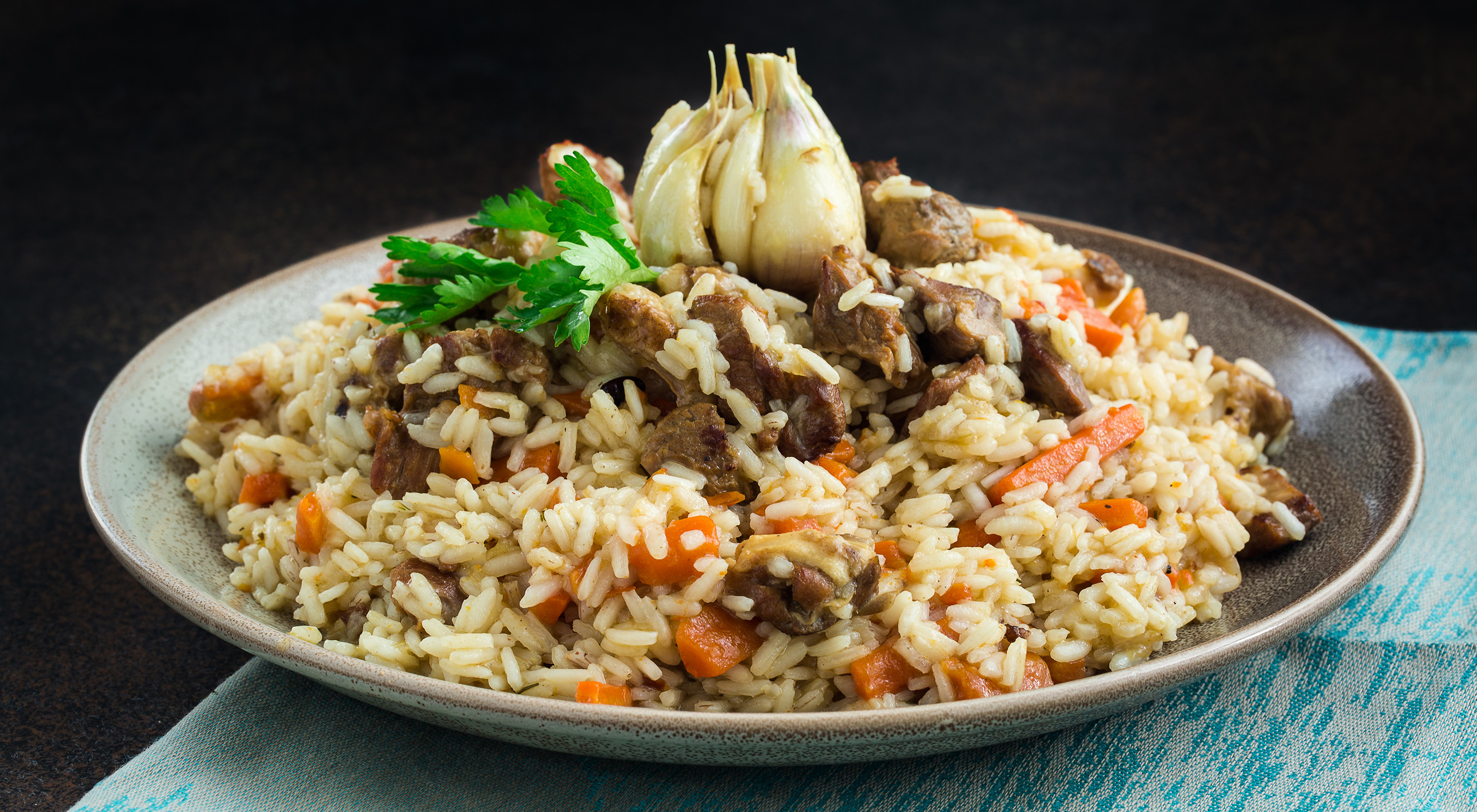 Rice Bukhari with Meat
Ingredients
Chicken Marination and Cooking
1-2

tablespoons

ghee

ghee and vegetable oil

2

lbs

chicken with bones

(cut into 4 pieces) or 750g meat with bones

3

large

onions

slices

8

garlic

cloves, minced

3

large

carrots

match sticks (divided into two halves)

3-4

large

tomatoes

cut into small pieces

3

tablespoons

tomato paste

1

tablespoons

chicken stock powder vegetta or magi

2

cups

cooked chickpeas
Marination Spices (chicken or meat)
2

teaspoons

of mix of 1/8 teaspoon of black pepper

1/4 teaspoon of cinnamon, 1/4 teaspoon of cardamom, 1/8 teaspoon of cloves powder

1

tablespoon

apple vinegar (will only be used for chicken)

2

tablespoons

lemon juice,

2

tablespoons

olive oil
whole spices for chicken or meat: whole cardamom, 1 cinnamon stick, cloves, 2 bay leaves, cloves, cumin seeds
1

teaspoon

coriander powder

1

teaspoon

cumin powder

1

teaspoon

cumin turmeric

¾

teaspoon

mixed spice

¾

teaspoon

ginger powder

¾

teaspoon

cinnamon .

½

teaspoon

paprika

½

teaspoon

black pepper

1

teaspoon

Salt

2

cups

rice mazza or basmati
Frying carrots and raisons
2

large

carrots

1-1½

cup

raisins

½-1

teaspoon

sugar for fried carrots
Instructions
Marinate chicken or meat pieces in apple vinegar and lemon juice and oil a few hours or the night before; then drain; then mix the 1/4 teaspoon of cinnamon, 1/4 teaspoon of cardamom, 1/8 teaspoon of cloves powder and rub very well over the chicken and let marinate for an overnight

Drain the marination liquid (if any).

Add ghee and oil onto a pot, on a high heat stir in the meat or chicken pieces. Turn once and keep until lightly browned. Remove from pot and set aside.

Stir in the onions into the same pot. On high heat keep the onions until golden brown.

Add ½ amount of the carrots on the onions. Stir once and then allow to lightly brown colour.

Add the tomatoes. Stir until all ingredients are well combined.

Add the whole spices, then the garlic. Mix until all well combined.

Add tomatoe paste and the chicken stock powder.

Stir in the browed meat or chicken pieces.

Add all spices. Cover slightly the meat or chicken with boiled water.

On high heat allow the sauce to boil. Reduce into low and cover.

Keep the meat about 1½ to 2 hours until well cooked. The chicken need 40-45 minutes to be cooked.

Add ½ amount of the chickpeas and remaining ½ of the raw carrots.

Add the rice on top of the meat or chicken. At this time the level of sauce is reduced and it should only cover the rice about half to one inch.

Cook the rice on high heat or until the sauce is almost absorbed.

On top of the rice, lay three strips of the following: chickpeas, the raisins, and then add a strip of the fried carrots.

Cover the pot and cook on low heat about 30 minutes, or until the rice is cooked.

Turn on serving dish. Garnish with the toasted almonds.
Cooking the Rice
While the stew is cooking, soak the rice in water with salt.

Fry raisins in some ghee or vegetable oil. Drain from oil and set aside.

Stir in the carrots with the sugar and fry until slightly browned. Set aside.
Garnish
Boil the almonds in hot water for 1-2 minutes.

Remove the skins

Spread on baking sheet.

Toast in oven in the broil mode about 4 minutes. Stir each minute.
Notes
Bukhari rice is traditional local famous in Saudi Arabia and gulf countries.
Note: the meat can be slightly cooked in pressure cooker, then continue cooking 30 more minutes in the the sauce.