The holy month of Ramadan is a good opportunity to start eating healthy dishes and this Zucchini and pumpkin Bake is considered as a healthy recipe that you can enjoy during the month of Ramadan!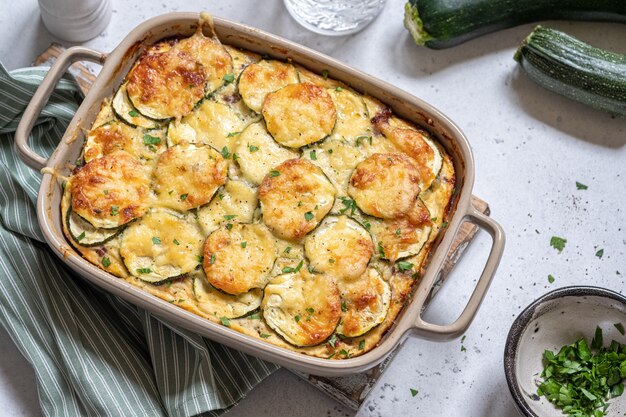 Zucchini and Pumpkin Bake
A healthy food is a balanced and varied food that contains all the basic nutrients that the body needs such as proteins, carbohydrates, fats, vitamins and the main minerals. A healthy food includes the six food groups, which are carbohydrates, proteins, fats, vitamins, minerals, and water that must be present daily in our food. And this recipe is one of the best recipes you can try in Ramadan
Ingredients
1 1/2

lbs

green pumpkin

cut into medium cubes

1 1/2

lbs

of small zucchini

cut into cubes

1/4

teaspoon

of ground black pepper.

1/4

teaspoon

of oregano.

2

tablespoons

of olive oil

A tablespoon of pine nuts

1

Cup

of grated white cheese

Two cubes of chicken broth.
Instructions
Mix the zucchini cubes with pumpkin, black pepper, salt and oregano in a large mixing bowl tray

Pour the batter in a greased tray and bake in a 150-degree C/ 310°F oven for fifty minutes

Stir the pine nuts in a wide pan with olive oil over a medium heat until it turns golden, then add the cheese, the broth cubes and the mixture of grilled vegetables

Stir the ingredients for four minutes, then pour the ingredients into a serving dish and serve it hot next to a loaf of hot barley bread.

Serve and enjoy your zucchini bake!
Nutrition
Fiber:
4
g
Calories:
289
kcal
Saturated Fat:
6
g
Fat:
13
g
Protein:
12
g
Carbohydrates:
12
g