In this recipe, we present the best way to prepare the Moroccan Kofta Tagine. A delicious recipe that can be prepared effortlessly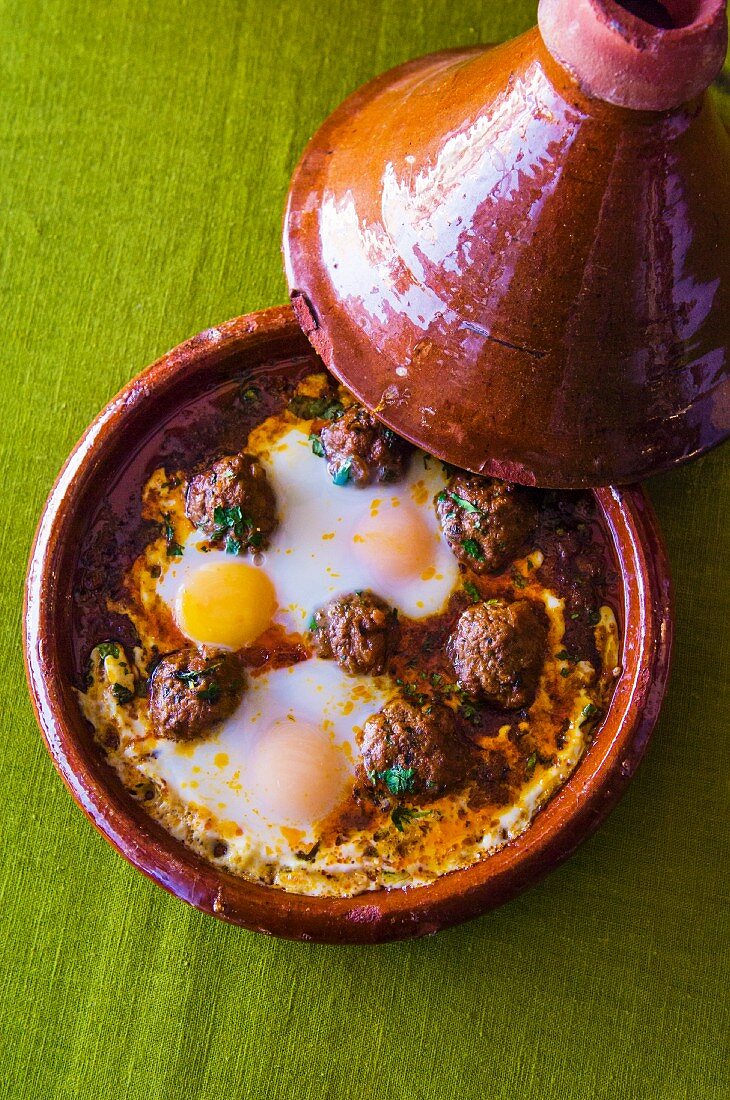 KoftaTagine
Kofta Tagine is a traditional Moroccan dish of Berber origins, made of pottery or handmade clay. Many types of dishes are prepared in which its name is associated with "tagine", such as meat tagine, or vegetable tagine, or chicken tagine, or the kofta tagine that we will present in this recipe, which is famous for its wonderful taste and perfect taste that is loved by young and old.
Ingredients
Kofta ingredients:

1

lb

of minced meat

lamb or beef

One onion

finely chopped

5

eggs

1

teaspoon

of cumin

1

teaspoon

of sweet red pepper

a small spoon of salt

¼

teaspoon

black pepper or allspice

¼

teaspoon

red-hot pepper

optional

½

cup

chopped coriander and parsley

Tomato sauce ingredients

2

lbs

of soft tomatoes

cut into small, fine pieces

1

teaspoon

of sweet red pepper

1

teaspoon

of cumin

Half a teaspoon of salt

3

large cloves of minced garlic

A little parsley and coriander

Half a small cup of olive oil

Half a small cup of water
Instructions
Prepare the kofta dough first, by adding spices to it (cumin, salt, sweet and hot pepper), then add parsley and coriander to it, then half the amount of chopped onions

Mix them well until the ingredients hold together, and set them aside.

In a frying pan, prepare the tomato sauce by putting half a cup of olive oil and half the remaining chopped onion and garlic, fry the ingredients a little over a low heat before adding to it the soft tomatoes and seasonings for the sauce (salt, pepper, sweet red pepper, cumin, coriander and parsley)

let simmer over a low heat For 15 minutes, until the sauce becomes firm and soft.

Form small balls of kofta and put them in the sauce, then add a quarter cup of water and leave it to simmer over a low heat for 15 minutes.

When the color of the kofta balls turns dark red, we serve the kofta tagine with warm sauce

Serve and enjoy your Kofta!
Nutrition
Sugar:
1.2
g
Fiber:
3
g
Calories:
266
kcal
Fat:
8
g
Protein:
11
g
Carbohydrates:
11.5
g