Foul is a plural Arabic word meaning beans. Mudammas is a Coptic word meaning "buried". Originally, this dish was cooked in a pot buried in hot coals. Foul mudammas with eggs is undoubtedly a dish of Egyptian origin, popular in several variations in the Middle East, North Africa, Sudan, and the Horn of Africa. This suhoor dish consists mainly of cooked broad beans, precisely fava beans, and it is usually eaten for breakfast or lunch with pita bread, but it can make a great dish for Ramadan suhoor.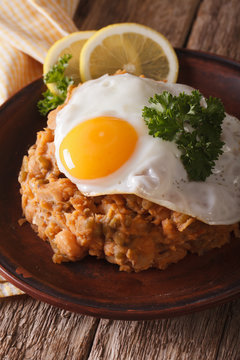 Egyptian Foul Mudammas with Eggs
Foul mudammas with eggs, more simply called foul, is an Egyptian vegan breakfast consisting of cooked broad beans flavored with lemon juice, garlic and served with olive oil, chopped parsley, and eggs in this recipe. You can prepare this recipe for suhoor, it will keep you full for the whole fasting day of Ramadan.
Ingredients
1

lb

fava beans

6 boiled eggs

3 cloves garlic

minced

2 tablespoons butter

2 tablespoons lemon juice

1 teaspoon salt

½ teaspoon black pepper

½ teaspoon cumin

½ teaspoon crushed red-hot pepper
Instructions
On medium heat, melt the butter, then add the garlic and stir for a minute.

Add the boiled eggs and stir until golden.

Lift the eggs and cut each egg into 4 pieces.

On medium heat, add the mashed broad beans, salt and black pepper, and bring to a boil.

Remove the beans from the heat, then add the lemon juice, cumin, hot pepper, and stir well.

Add the butter and garlic mixture remaining from browning the eggs and stir well.

Put the beans in a serving dish and then lay the eggs over the bean

Serve and enjoy your suhoor dish!
Nutrition
Sugar:
2
g
Fiber:
3
g
Calories:
321
kcal
Saturated Fat:
3
g
Fat:
5.4
g
Protein:
5
g
Carbohydrates:
12
g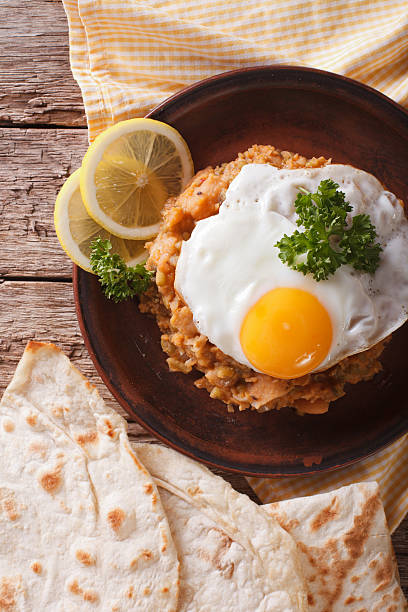 Egyptian Foul Mudammas with eggs