Moroccan Samosa Cigars which is the origin of this food is not specific to Morocco, Tunisia, Algeria, and Libya only. Whereas in Istanbul they eat börek, in Bosnia they cook it in a spiral and call it Burak, and in Greece, they call μπουρέκι (Börek) for a pan that fills a whole frying pan, as well as "Börek" in Iran. The Turkish word börek is the origin of Burak and brik. It entered the time of the. Ottoman Empire's encroachment on North Africa like baklava. As some sources say that the Turks took it from the Persians
.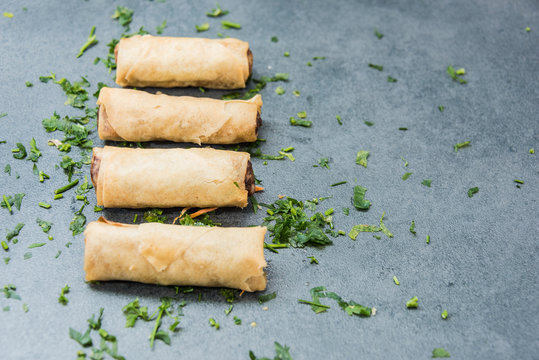 Moroccan Samosa Cigars
During the fasting of Ramadan which cuts off eating and drinking, and we start making delicious dishes and appetizers; and this is one of the most popular Moroccan dishes that you can enjoy as an appetizer. Discover the best way to make this delicious appetizer!
Ingredients
40

Brick Sheets

1

boneless chicken of 3 lbs

2

carrots coarsely grated

1/2

of bean sprouts

2

small boiled potatoes

1

bunch of finely chopped parsley

3

Chopped Mint Leaves

1

pinch

of salt

1

pinch

of ground black pepper
Instructions
Cook the chicken in a Dutch oven for 20 minutes over medium heat.

Prepare the potatoes by boiling it in hot water for 10 minutes; then drain and cut into small pieces or mash it

Coarsely chop the chicken meat.

In a salad bowl, mix the carrots, the soya cut into pieces, the potatoes, the parsley, the mint, the pepper and the salt.

Fold the sheet of bricks in four to obtain a long strip that you will cut in half.

Arrange the stuffing at the bottom of the brick sheet, fold the two sides of the sheet over the stuffing and roll the cigar to the end of the brick sheet, stick with the beaten eggs.

Fry the cigars in very hot oil on both sides.

Serve them hot on a bed of lettuce leaves.

Serve and enjoy your samosas!
Nutrition
Fiber:
3
g
Calories:
265
kcal
Fat:
7
g
Protein:
6
g
Carbohydrates:
13
g