Unlike the hrira (Moroccan chorba) which is flavored with fresh coriander, I prefer Chorba frik Recipe with parsley or coriander which has a slightly milder flavor, and which goes wonderfully well with the spiciness of the chilli. In Tunisia, chorba is eaten every night of Ramadan to break the fast. The rest of the year, I serve it with samosa or burak to make a hearty meal. I love this soup especially when I put lots of lemon!! (after cooking of course)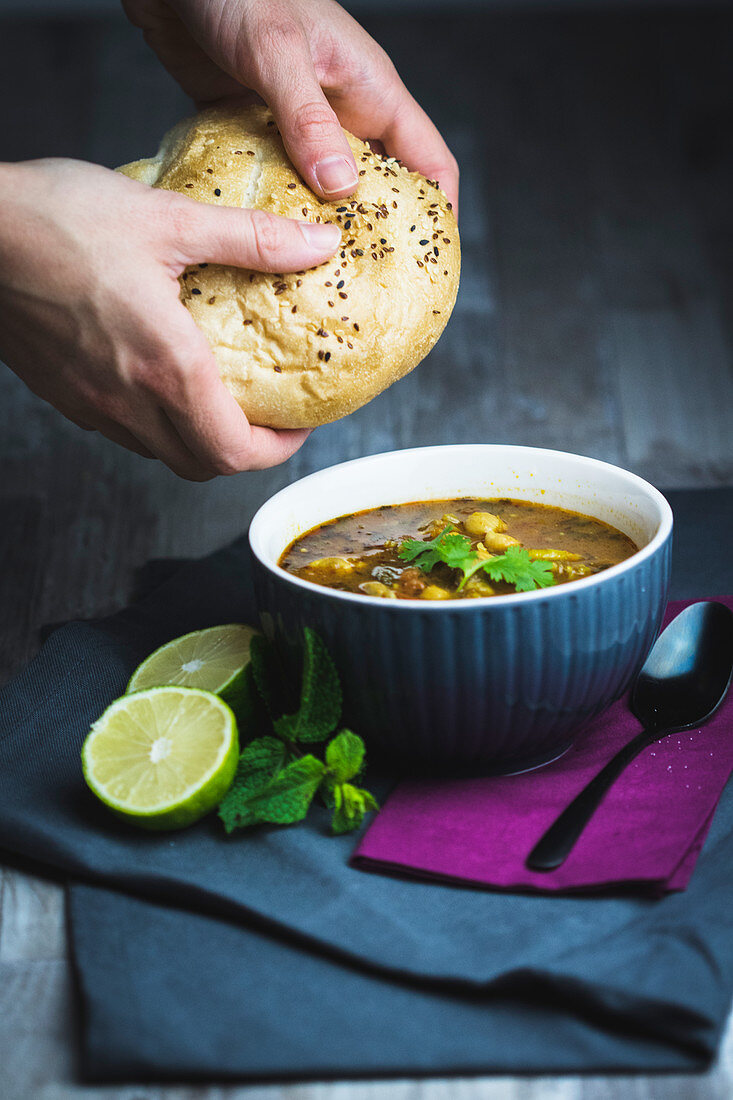 Chorba Frik
Chorba frik is made from green barley, dried, crushed and cooked in broth. It is prepared with veal, lamb, chicken or fish. This soup alone constitutes a complete meal, especially during Ramadan!
Ingredients
1

lb

of lamb meat in pieces

1

onion

1

fresh tomato

2

tablespoons

extra virgin olive oil

1

tablespoon

canned tomato

1

good handful of pre-cooked chickpeas

1

bunch of cilantro

1

small stalk of celery

1

cup

racked green wheat frik

1

tbsp

salt

1

pinch

coriander powder

1

pinch

black pepper

1

teaspoon

sweet paprika
Instructions
Activate the Thermomix at speed 7 and add the fresh coriander through the opening to chop it.

Add the fresh tomato, the quartered onion and activate the thermomix 5 sec/speed 5

scrape off anything on the walls.

Add the extra virgin olive oil.

Without the measuring cup, activate the Thermomix to brown this mixture: 2min30 / 160°F / Speed ​​1

add the meat in pieces, the tomato purée, the paprika, the black pepper, and the salt brown again 4 min / 80 °C / reverse / speed.

Add the celery and boiling water up to the maximum line on the Thermomix bowl, and start the Thermomix 60 min / 220°F / reverse / speed.

Now add the wheat frik, and the pre-cooked chickpeas, cook for 15 min/200 °F/reverse direction/speed.

At the end of cooking, transfer the chorba frik into a soup tureen, and garnish with chopped fresh coriander.

Serve and enjoy your soup!
Nutrition
Sugar:
1
g
Fiber:
3
g
Calories:
233
kcal
Saturated Fat:
5
g
Fat:
8.9
g
Protein:
9
g
Carbohydrates:
10
g