There are many traditional symbols that show the authenticity and history of the Palestinian people, and one of these symbols is embodied in the "zaatar manakish". Zatar Pie Manakeesh; which is distinguished by its deliciousness, flavor and good smell, especially by adopting its original ingredients, especially "wheat, olive oil, and thyme. Technological development may have limited the spread of traditional foods, including "zaatar manakish." Some quickly became aware of this, especially with the growth of colonial ambitions to steal heritage along with the occupation of the land, so they reproduced it in special bakeries in cities, villages, and camps, in the same old way, and some harnessed technology and its development for that. Zaatar mana'eesh is made from taboon bread, olive oil and thyme. There is another variety to which white cheese is added, which gives a delicious flavor to the mana'eesh. Usually, all of them are products from the land of Palestine due to a unique flavor that uses thyme. Zaatar mana'eesh is one of the dishes that many Arab countries are popular for. Here is how to make regular zaatar manakeesh, and Palestinian zaatar manakeesh.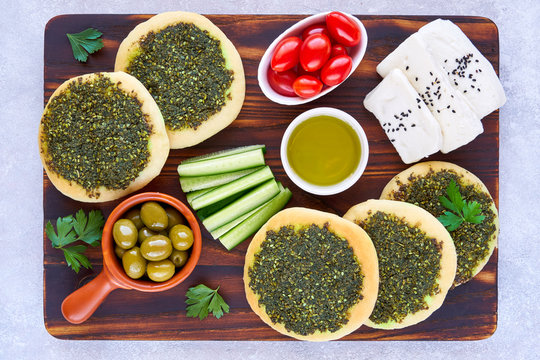 Zatar Pie Manakeesh
Zaatar manakish is considered a light meal and can be served at breakfast, or even lunch and dinner. Here is recipe that all peopel like, we can find different types of manakeesh, like zaatar manakeesh, and thyme manakeesh on the Palestinian way.
Ingredients
--For the Dough :
25

oz

instant dry yeast

2

tbsp

white vinegar

cup

¼yogurt

cup

¼vegetable oil Sprinkled salt Sprinkled sugar

2

tbsp

white vinegar

cup

¼yogurt

¼

cup

vegetable oil Sprinkled salt Sprinkled sugar

3

tbsp

corn starch

3

cups

flour

1

tbsp.

butter Hot water- as needed
--For the Zaatr Mixture :
Zaatar- as needed Olive Oil-as needed
Instructions
--Four the Dough:
Mix all ingredients together without the hot water Add the hot water till we get a homogeneous mixture Place the dough in a warm place for one hour and a half

then it's ready to be used
--For the Zaatr Mixture:
In a bowl mix the olive oil with the Zaatar
--For the Pie :
Doug- Make medium separate circles, medium thickness Use flour to avoid stickiness Cover the oven tray with vegetable oil Place the dough circles in the tray Using a spoon, take some of the Zaatar mixture Recipe Notes

And add it to the dough Heat in 350 f, for 15 mins (might take less or more, depends on the oven)

The dough is also good for Barak and cheese pies.

Keep looking for redness on the bottom of the pie when placed in the oven.