If you are looking for a mesmerizing authentic and sumptuous Mediterranean Baked Chicken with Potatoes recipe that will make you crave for more; then you came to the right place, and you have chosen the right place. Everyone will love this recipe; children and adults alike. Indeed, this Baked Chicken with potatoes recipe uses affordable and easy-to use ingredients that are available to anyone.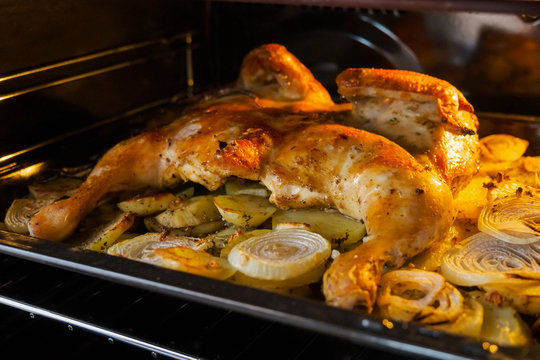 Baked Chicken with Potatoes
The skin of the roasted chicken is crispy and in addition to the crispiness and the delicious taste of this recipe, this recipe brings the taste of exotic Mediterranean to your dish, a taste you will never be able to forget. So what are you waiting for? Roll up your sleeves and jump of your seat right now to start cooking.
Ingredients
4

pounds

1 Whole chicken (about 4 lbs) at room temperature

2

tablespoons

olive oil

1/4

cup

butter

1

piece

red onion, medium

4

piece

lemons

6

leaves

lettuce

-- Potatoes Mixture :

2

pounds

potatoes : sliced, or cut into half

5

Leaves

chopped fresh rosemary

4

piece

lemons

1/4

tablespoon

curcuma

3

cup

water

salt to taste

2

tablespoon

pine nuts
Instructions
Start by seasoning  the chicken in a large bowl or pan; brush it with a tablespoon of oil, marinate it with salt and pepper, then add the rosemary and the thyme and tie the thighs with a thread

Bring a large saucepan filled with water to a boil with 4 cups of water over a high heat and place a steamer over the water

Place the whole chicken in the steamer and let steam for about at least 30 minutes

Once the 30 minutes are up; heat the oven to 450 degrees Fahrenheit and brush the chicken with melted butter and with more seasoning

Put the chicken on the medium shelf in the oven and roast it until it gets a golden color for 50 minutes.

About 5 minutes before removing the tray from the oven; top with the pine nuts and bake for an additional 5 minutes; then take it out of the oven and set it aside for 15 minutes before serving.

While roasting the chicken, mix the lemon, the onions and potatoes with the rest of the oil and fresh thyme in a medium bowl with salt and pepper, stir the ingredients well until the flavors are mixed, then arrange the mixture as a single layer in the oven tray and put it on the bottom shelf of the oven and roast the vegetables with stirring from time to time for 40 minutes until golden.

Arrange the lettuce leaves in a large serving tray; then put the roasted chicken in the serving dish over the lettuce and serve it with lemon and the baked potato.

Enjoy your dish!
Notes
Nutrition Information
Calories: 201.0| Fat: 3.2g | Carbohydrates: 24.3g | Fiber: 3.4 g |Protein: 18.6g