7 Popular Ramadan Dishes For Iftar
Ramadan is the holiest month of the Hijri year, and the most celebrated in all Islamic countries, and although the manifestations of the celebration are more religious activities, the pleasures and the most beautiful foods in the month of Ramadan that are specific to the blessed month are present on all tables in Muslim homes. One of the things that distinguish the month of Ramadan is preparing delicious dishes and eating them with the family. It is true that there are many Ramadan dishes that are beautifully presented on each Arabic family table. But Arab foods, in particular, have a special place on the table, especially in Arab countries. You will find many Arabic foods that are prepared during this period, in Ramadan in particular, which cannot be present on the table. In addition to doing all the preparations for Ramadan and preparing the mufazarat, preparing Arabic Ramadan dishes as well, to be eaten at iItar time need healthy ingredients and innovative ideas. Of course, you must have certain ingredients in your kitchen in order to be able to prepare food perfectly. Find out what these Arabic Ramadan dishes are:
Moroccan tagine
There are two ways to make a tagine, either with meat and vegetables, or with meat and potatoes. This is the main dish on every table in Ramadan, especially on the Moroccan table.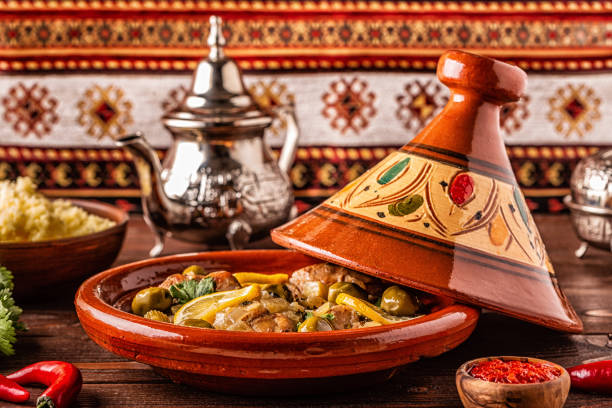 Moroccan tagine ingredients
Half a kilo of meat
1 onion
3 chopped tomatoes
3 pieces of zucchini
3 pieces of carrots
3 pieces of potatoes
Two tablespoons of olive oil
Half a teaspoon of minced garlic
chopped parsley
Half a teaspoon of turmeric
minced ginger
Salt and black pepper
pinch of paprika
How to prepare the Moroccan tagine
Put the tajine on the fire and add the oil and garlic
Then add the onions and meat with salt, black pepper, spices, ginger and turmeric.
Add the vegetables to the casserole and sprinkle with the paprika
Let simmer for about 20 minutes
Serve and enjoy your dish!
2.  Jordanian Mansaf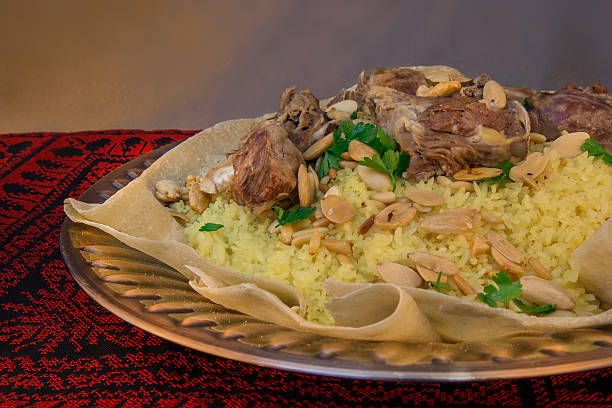 Despite its fame in the Levant, mansaf is considered the national dish of Jordan. This Jordanian food is made of lamb cooked in a dried yogurt sauce and served with rice or bulgur
Jordanian mansaf ingredients
3 kilos of meat
2 kilos of frozen yogurt
kilo of rice
bay leaf
4 grains of cardamom
1 teaspoon of turmeric
Half a teaspoon of salt
chopped parsley
almonds
How to prepare Jordanian mansaf
Put the meat with spices on a low heat, and in the meantime
Soak the rice and add turmeric to it.
Then add the milk to the meat and leave it on the heat
Put the rice after its maturity in a serving dish
Add the meat on top, and garnish with parsley and almonds.
Serve and enjoy your dish!
3.  Egyptian mahshi
Egyptian Mahshi is one of the most popular Egyptian Ramadan dishes. Some prepare it with rice and some prepare it with minced meat.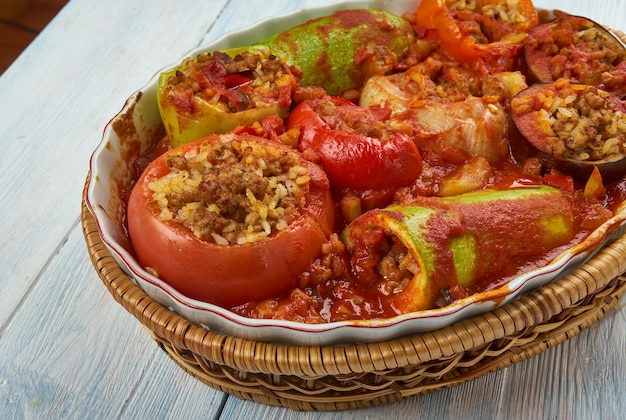 Egyptian Mahshi ingredients
A kilo of thin black and white eggplant
A kilo of small zucchini
Quarter of a kilo of green bell pepper
3 and a half cups of Egyptian rice
1 kilo of tomatoes
Half a bunch of parsley
Quarter of a bunch of green coriander
Two onions
3 cloves of garlic
A third of a cup of vegetable oil
Salt, to taste
Half a teaspoon of black pepper
Spices to taste
Half a teaspoon of cumin
Half a teaspoon of grated ginger
Chicken broth cube
2 tablespoons of ghee
How to prepare Egyptian mahshi
Put the tomato juice on a low heat, then chop the vegetables finely with garlic and onions.
In a bowl, mix the cooked rice, tomatoes, ginger and vegetables together, then put the oil and spices.
Stuff each of the peppers, eggplant and zucchini, the mixture you got earlier.
Put the stuffed beans in a deep bowl that they are stacked well, and on top of them add the hot soup until the stuffed is covered.
4. Palestinian Maqluba
One of the oldest dishes on the Palestinian table is maqluba, which of course is also served by many Arab countries on the Ramadan meal. This dish consists mainly of rice with fried vegetables, whether eggplant, potatoes, cauliflower, or all together, along with lamb or chicken. You can just make it for Ramadan Iftar, along with the traditional salad.
Palestinian Maqluba ingredients
A kilo of meat, cut into cubes
Two sweet potatoes, sliced
Two cups of rice
Two eggplants, sliced
Two chopped onions.
Sliced ​​onion
Half a teaspoon of ground cinnamon
bay leaf
Half a teaspoon of turmeric
meat broth
Vegetable oil
Salt and Pepper
Pine nuts for garnish
How to prepare Palestinian upside down
Cut the eggplant into slices, then let it soak in water for 15 minutes.
Meanwhile, put a little vegetable oil on the stove and add the pieces of meat to it along with the onions and spices. Fry the eggplant and potato slices with onions.
Bring a cooking pot and put two tablespoons of oil in it, then put the eggplant slices in it side by side and on top of the potato slices, then put the onion slices and the ripe meat.
Also, add another layer of eggplant on top of the meat with rice.
After the ingredients boil, turn the pot over until you get it upside down, and add the pine nuts and nuts to the dish.
5. Lebanese chickpea fattah
The chickpea fatteh with yogurt and pine nuts is famous in Lebanon and abroad as well for its delicious taste. The dish consists of garlic with yogurt, chickpeas and fried bread, seasoned with salt and cumin and garnished with pine nuts.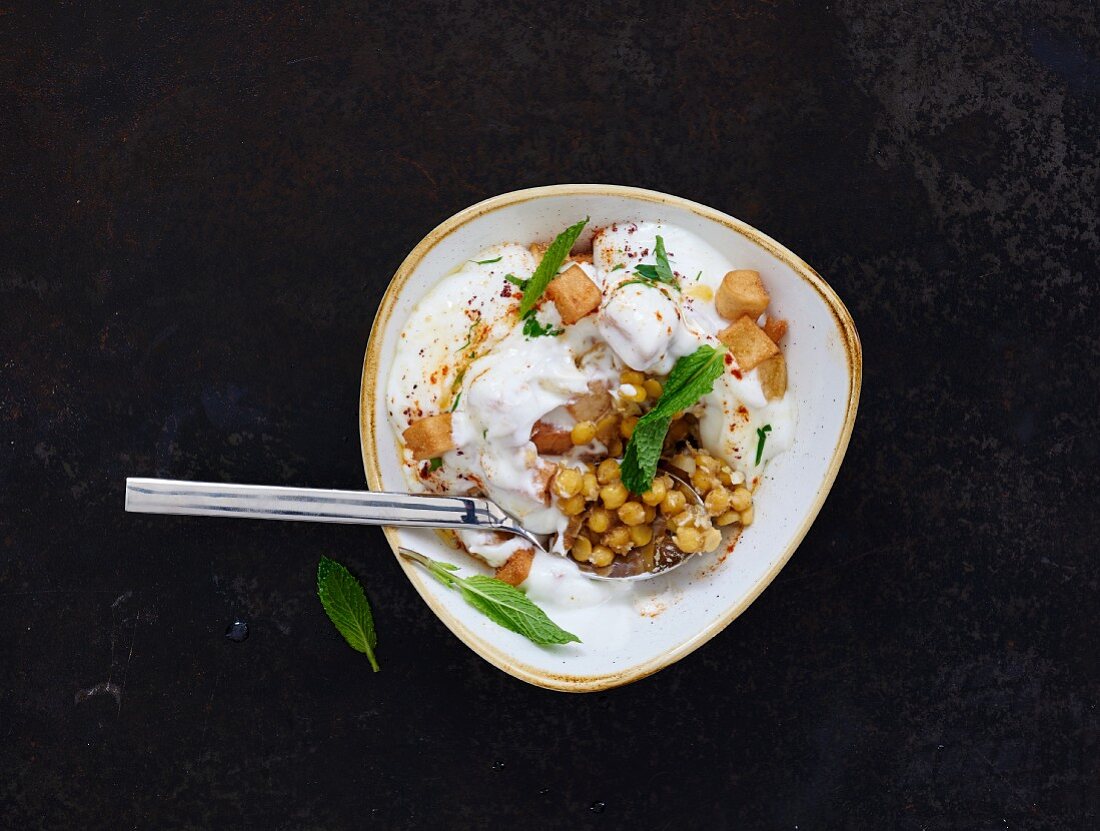 Lebanese chickpea fattah ingredients
4 loaves of sliced ​​toasted bread
4 cups of boiled chickpeas
6 cups of yogurt
¼ cup of tahini
¼ cup of lemon juice
a teaspoon of salt
4 cloves of crushed garlic
How to prepare the Lebanese chickpea fatteh
In a medium saucepan, place the chickpeas with the boiling water over a medium heat. In a deep dish, put the yogurt, tahini, lemon juice, salt and garlic, and mix well.
Distribute the chickpea boiled water on the bread in a serving dish, and put a little chickpea on the bread, in addition to distributing the yogurt mixture on the bread and chickpeas to cover it completely.
Garnish the chickpea fattah with fried pine nuts, parsley and paprika.
Serve the hummus fatteh immediately to enjoy the taste of crunchy bread and warm hummus.
6. Emirati porridge
Also known as Emirati meat porridge, it can be prepared using chicken. The dish depends mainly on a mixture of bread, vegetables and protein, whether meat or chicken, as mentioned earlier.
Emirati porridge ingredients
5 pieces of meat with bone
medium onion, chopped
3 garlic cloves, sliced
½ cup tomato paste
large tomato
beef broth cube
½ teaspoon curry
bay leaf
pinch of black pepper
Two dried black lemons
A third of a cup of crushed chickpeas
Zucchini, carrots, eggplant, potatoes, beans, pumpkin
How to prepare Emirati porridge
In a large saucepan, put a little oil with the onions, garlic and meat, then add the curry, black pepper, and tomato sauce and meat broth.
Allow more to boil before adding the dried crushed chickpeas, chili pepper and salt.
After 15 minutes, add the vegetables to the mixture and stir well.
Put the crushed bread and put the broth on top, then distribute the vegetables and meat.
Serve and enjoy your dish!
7. Iraqi Baja
The Baja is a popular Iraqi dish that Mosul is especially famous for. It consists of boiled lamb chops stuffed with rice and small pieces of meat.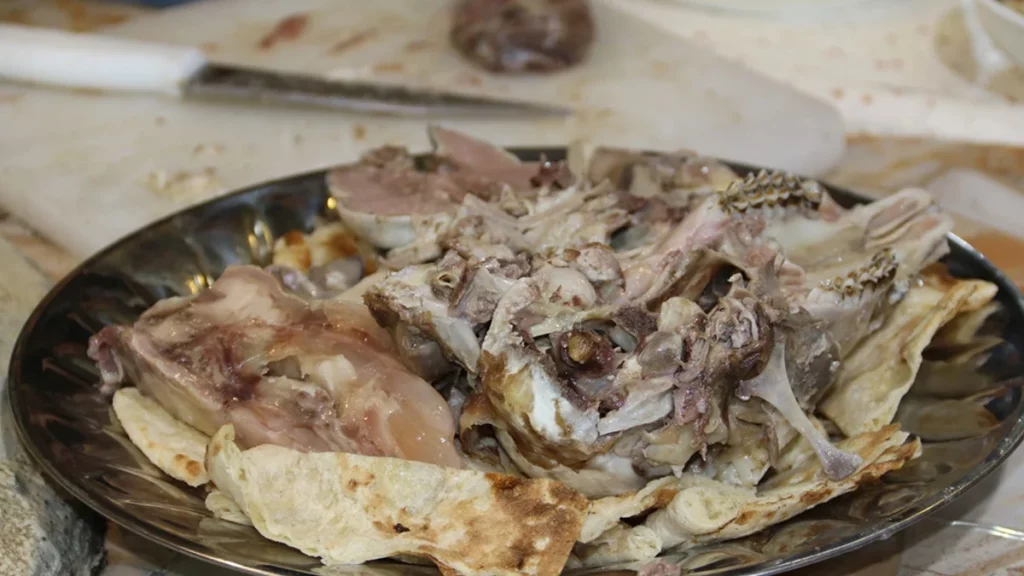 Iraqi Baja ingredients
6 pieces of cleaned lamb trotters
4 sheep's head
5 small onions, cleaned only
10 garlic cloves
10 cardamom pods
10 black peppercorns
4 back cinnamon
5 bay leaves
3 dried black lemons
3 hot green peppers
1 teaspoon of spice
4 cups of water
How to prepare the Iraqi Baja
Clean the trotters and the meat of the head and separate it from the tongue. In a small saucepan, put the water with salt on a medium-high heat, then add the trotters, head meat and tongue with spices and flavorings.
Be careful not to open the lid of the pot during the ripening period, and then stuff the trotters with rice.
Finally, serve the dish with Arabic bread, lemon and onions.