A quantity of minced meat mixed with many other ingredients and different spices will offer you a distinctive flavour. Turkish-Style Hawawshi is one of the most appetizing recipes that you can make for your family and this is the method that many housewives can prepare with a few ingredients.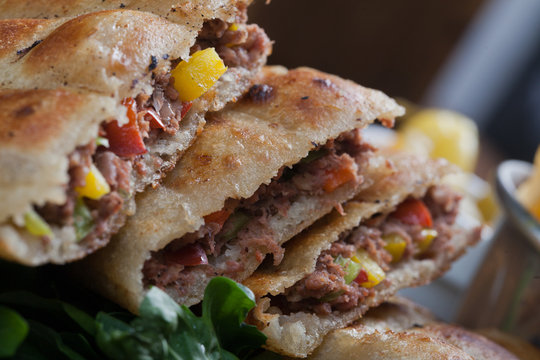 Turkish-style Hawawshi
There are different opinions about the origin of the Hawawshi , but every country prepares it with a different taste. Today, try Hawawshi, in the delicious Turkish way, and tell us what you think by evaluating the recipe.
Ingredients
Dough ingredients:

4

cups

of flour

2

cups

of milk

4

tablespoons

of corn oil

4

teaspoons

of sugar

4

teaspoons

of instant yeast

2

teaspoons

of salt

Filling ingredients:

2

Pounds

of minced meat

1

large onion

chopped

2

cloves

of garlic

mashed

3

colored hot peppers

1

Pinch

of black pepper to taste

1

cup

of Cheddar cheese

1

cup

of shredded mozzarella cheese

1

teaspoon

of Nigella sativa

1

Tablespoon

of pomegranate molasses

¼

cup

of chopped pomegranate seeds

1

spoonful of salt and black pepper

To decorate

Sesame and nigella

as desired
Instructions
To prepare the filling, bring a large bowl and put the meat, onion, garlic, oil, coloured pepper and hot pepper in it and mix them well.

Add the nigella, salt, black pepper, sumac, pomegranate molasses and pomegranate cloves and knead them well with your hands until you get a dough.

To prepare the hawawshi dough, bring a large bowl, then put the flour, sugar, oil, yeast, salt and milk and knead it, but do not put all the milk, as you will be surprised that it is not cohesive, add it to it gradually.

Cover the bowl with a clean towel and leave it for an hour in a warm place until it doubles in size.

Divide the dough into two parts and place one of the two parts in an oven tray, then put the filling and close it well with the second half.

Heat the oven at 200°C/400°F for five minutes.

Put the tray of hawawshi in the oven for 10 minutes, then reduce the heat to 180°F/360°F and bake for another 15 minutes.

Remove from the oven, then put the cheese mixture on top, then leave it for another five minutes.

Take out the Hawawshi tray from the oven and sprinkle it with sesame and nigella immediately, then put it in a serving dish

Serve it to your family and enjoy!
Nutrition
Sugar:
2
g
Fiber:
3
g
Calories:
233
kcal
Saturated Fat:
5
g
Fat:
9
g
Protein:
6
g
Carbohydrates:
8.9
g