Sweet semolina with Raisins or Mesfouf with raisins is a delicious appetizer or dessert that is both nourishing, refreshing and vitaminized. As for the perfumes, they are left to taste: orange and blossom water.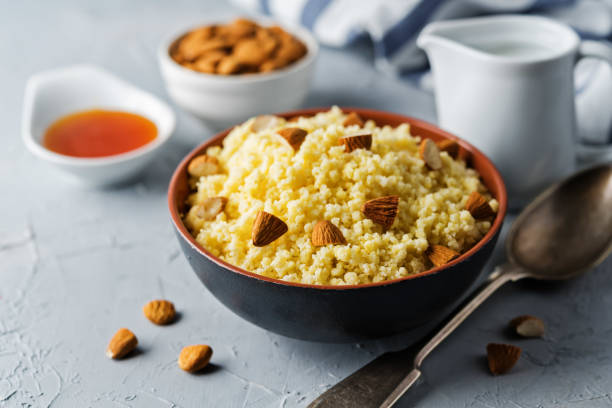 Sweet Semolina with raisins
Here is a typical couscous or semolina made for special occasions with raisins and sweet flavour. This recipe which is also called in some regions Mesfouf with raisins, differs from one region to another, you can also serve with dates
Ingredients
3

red onions

1

Cup

of raisins

1

teaspoon

s of honey

1

Tablespoon

of olive oil

1

lb

of medium size wheat semolina

1

tablespoon

s of ras el hanout or 1 teaspoon (s) of four spices

1

teaspoon

s of cinnamon

1

cup

of butter

1

Pinch

of ground pepper
Instructions
Peel the onions, dice them, put them with the grapes and 15 cl of water in a saucepan and boil 10 minutes

When the water has evaporated, add a drizzle of olive oil, salt, pepper, honey, and let simmer gently for 20 minutes

During this time, put the semolina in a microwave-safe bowl with the spices, salt and pepper and pour 60 cl of boiling water over it, the semolina will absorb it quickly, but if it seems too much to you.

Dry; then add a little more hot water and let soak for a few minutes

Add a drizzle of olive oil and butter, stir with a fork to separate the seeds and toss with the onions and raisins.

Heat in the microwave for about ten minutes, or place the bowl on a saucepan of boiling water.

Serve and enjoy your dish!
Nutrition
Calories:
250
kcal
Fat:
8
g
Protein:
11
g
Carbohydrates:
15
g