Try with us today how to make semolina cake with pistachios (harissa) or what is known as harissa with pistachios: easy dessert, one of the easy and delicious desserts.
If we talk about sweets in the Egyptian cuisine, you will not find a person who does not like semolina cake with pistachios. The Egyptians consider this recipe as one of the basic dishes on every occasion and celebration, so that this delicious dessert is a welcome guest in every joy and birthday.
Although it is not of Egyptian origin, this recipe has managed to become one of the main desserts for the Egyptians. The origin of this recipe dates back to the days of the Ottoman Empire, where the Ottoman Empire was famous for its ingenuity in making sweets and transporting them to different countries. Semolina cake with pistachios is the easy way that made the Egyptians get addicted to it.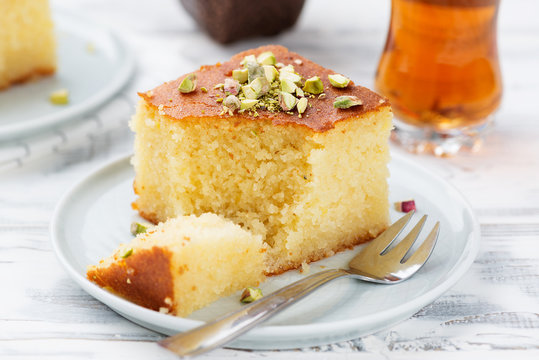 Semolina cake with pistachios (Harissa)
Harissa is one of the most famous types of desserts in the Levant, especially in the Republic of Syria. This recipe consists of sugar, coarse semolina, milk, and municipal ghee. This recipe is very easy to prepare.
Ingredients
2

lbs

of semolina

1

cup

of sugar

1

cup

ghee

4

Cups

of milk

1

cup

coconut

2

cups

of coarsely crushed pistachios

3

tablespoons

of tahini

4

cups

of cold sorbet

1

tablespoon

of baking soda
Instructions
Mix the semolina with the sugar and coconut.

Add the ghee or the butter and rub it very well.

Add to the sodium carbonate over the milk and beat very well until it starts boiling.

Add the milk on top of the mixture and knead very well.

Grease the mold with the tahini.

Spread the nuts in the pan and sprinkle the nuts over it and gently press them to stick (large mould, size 60).

Cut into longitudinal lines and then crosswise with the knife.

Place in the oven until the color of the bottom becomes golden, and then the top is red until it becomes golden (in some ovens the bottom and top are browned at the same time).

Drink the syrup immediately (the syrup is cold, and the mash is hot).

Top with the chopped pistachios

Serve and enjoy your harissa!
Nutrition
Sugar:
5
g
Calories:
320
kcal
Saturated Fat:
1.1
g
Fat:
2
g
Protein:
3
g
Carbohydrates:
12
g