What is better and more nutritious than Quails with pomegranate Molasses to have for dinner or main dish. This recipe is super delicious and filling, you can make some salads of your choice to serve with this recipe.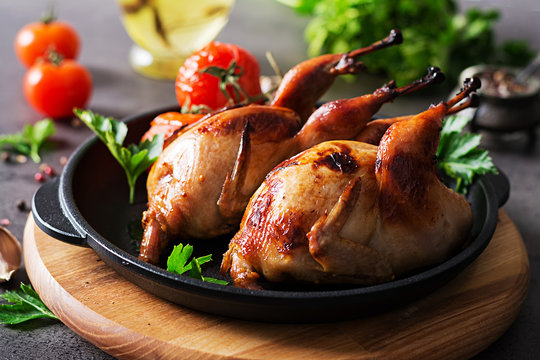 Birds with pomegranate Molasses
A very special dish and really one of the most delicious dishes that add a special taste to your trip. Try it, it is really worth the experience, and believe me, it tastes more than you expect.
Ingredients
1

lb

of fat quail birds

3

tablespoons

of oil in the pot

1/4

cup

of pomegranate molasses or lemon juice

1

pinch

of black pepper

1

Lebanese pita bread
Instructions
Clean the birds by removing the feathers, then clean the cavity

Pass the birds over the fire to get rid of the remaining small feathers.

Then wash the birds well and dry them immediately.

Put the oil in the pot over the fire. When it is well heated, fry the birds for 10 minutes.

Then add spices and salt to the birds.

Pour the pomegranate molasses or the lemon juice over the birds and cook over the heat for an additional two or three minutes.

Put the birds and their oil on a loaf of Arabic bread and serve your dish hot!
Nutrition
Sugar:
3
g
Fiber:
2.6
g
Calories:
350
kcal
Saturated Fat:
5
g
Fat:
9
g
Protein:
12
g
Carbohydrates:
15
g