Qaraqeesh is one of the best-loved snacks on the breakfast table with a cup of tea, or tea with milk, due to the ease of eating it anywhere and at any time, as it is easy to take to work or school, beloved by children and adults and easy to prepare at home.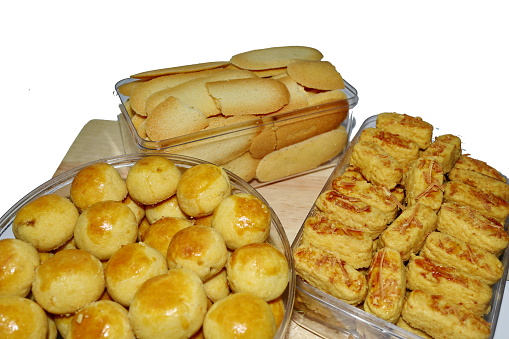 Qaraqeesh
Qareesh is one of the baked goods that are served on holidays in many Arab countries, and you can prepare it in two ways, namely, the plain qaraqeesh, and the qaraqeesh with ajwa. On the blessed Eid al-Fitr, you can eat qaraqeesh in the morning with a glass of milk, and you can make qaraqesh at home in easy and simple ways.
Ingredients
2

lbs

of all-purpose flour.

1

cup

of oil.

A cup of ghee.

A cup of warm water.

2

tablespoons

of anise.

1

tablespoon

of fennel

2

tablespoons

of sesame.

A tablespoon of instant yeast.

1

tablespoon

of sugar

1

pinch

of salt
Instructions
In a cup of water, dissolve the sugar and yeast, and leave for 10 minutes until the yeast reacts.

Mix the flour, salt, fennel and sesame while stirring.

Heat the oil and ghee on the fire, but without boiling.

Add to the flour mixture, anise, oil and ghee, while stirring very well.

Put the yeast mixture with a little water, and knead the ingredients until we get a cohesive dough.

Leave to ferment for at least an hour in a warm place.

Take the dough, roll it out and cut it into small pieces, circles or fingers.

Stack in a tray and leave again for at least two hours.

Place in the oven at 180 degrees Celsius/360 °F on the middle rack until fully cooked

Serve and enjoy your dessert!
Nutrition
Calories:
266
kcal
Fat:
6
g
Protein:
6
g
Carbohydrates:
18
g