Meat and Okra Stew is a simple but delicious Middle Eastern recipe containing tomato sauce along with okra and fantastic spices. To make the dish for vegetarians, you can use omit the cut completely. Most often the dish is eaten with white rice.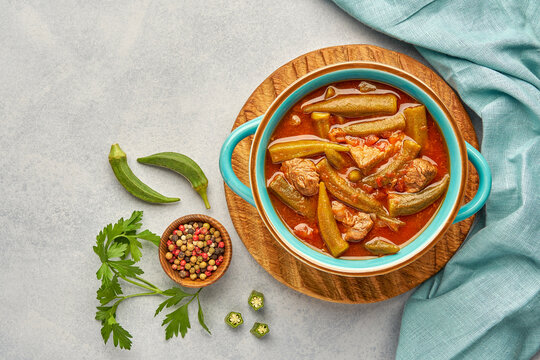 Meat and Okra Stew (yahkhneh)
Ingredients
1

kilo

okra

Frozen or fresh (if available)

400g

lamb meat with bones

Small to medium sized

3

tablespoons

vegetable oil

Browning the meat

1

medium-large

onion, cut into 4 or 6 piece

whole spices

boiling meat: black pepper

1 cinnamon stick, 4 cardamom, 2 bay leaf, cloves

3

cloves

garlic, minced or crushed

1

teaspoon

coriander (powdered)

1

tablespoon

olive oil

Sauté garlic and coriander

5

large

fresh tomatoes, juiced

peeling before juicing is optional. Canned can be used

1

teaspoon

Salt

½

teaspoon

black pepper

4

tablespoons

vegetabel oils

sauté okra (if fresh is used)

¾

teaspoon

sugar

4

cloves

garlic, minced or crushed

1

teaspoon

olive oil

sauté garlic to finish cooking
Instructions
For fresh okra, wash with water and remove top of okra and keep to dry. Add 3 tbs vegetable oil into a pan. Stir the okra until well coated with oil. Cover on low heat about 10-12 minutes. Stir occasionally. For frozen okra, use them directly.

Wash the meat with some water. Dry with kitchen paper. Add 2 tbs of vegetable oil into a pressure cooker. Add the meat pieces into the hot oil; stir until slightly browed. Add filtered water to just cover the meat pieces. Cover and boil in high heat until white foam appears. Remove gently the white foam. discard.

Add the onion and whole spices. Cover the pressure cooker and keep on high heat until the whistle sound is high. Reduce into medium to low heat where the whistle sound is low for about 20 minutes. When the pot cools, open and strain the meat pieces into a strainer. Keep the broth for the next step. Discard the onion and spices.

Add 2 tbs olive oil into a pot (not to smoking point). Add 3 crushed garlic cloves. Stir slightly and then add the 1 tsp of coriander powder and stir together. Add the juiced tomatoe and allow to boil. Reduce the heat and simmer about 8 minutes.

Add strained meat water, the meat pieces and the okra. Boil on high heat. Add sugar, salt, black pepper keep simmering about 20-30 minutes or until the okra is slightly soft.

Add 1 tbs olive oil into a small frying pan. Sauté 4 crushed garlic cloves. Add on top of the ready okra stew. Simmer 1 minute. Close heat.