Ghraybeh Cookie recipe is one of the best sweet recipes that can be made on Ramadan and on Eid. This method of making Ghraybeh with semolina and butter is the secret to the pleasure of baking.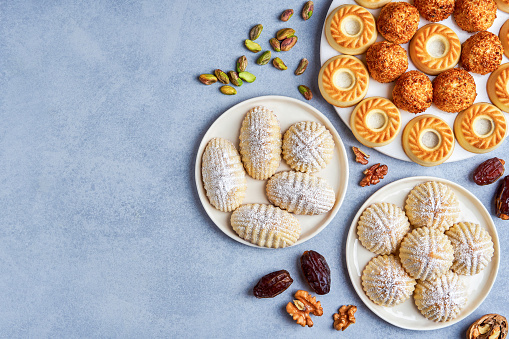 Gharybeh Pistachio Cookies
Pistachio Ghrayba Cookies are known for being a popular traditional and authentic Middle Eastern cookie dessert recipe that you and your family will love. These delicious cookies are stuffed with pistachios and dusted with powdered sugar.
Ingredients
For the dough
3

cups

coarse semolina

2

cups

fine semolina ferkha

1

cup

flour

1.5

cups

melted butter

1/2

cup

warm milk

1/4

cup

water

1/2

cup

sugar

3

tablespoons

orange blossoms water ma-zaher

2

tablespoons

baking powder
FOR THE PISTACHIO FILLING:
2

cups

raw pistachios, ground

1/2

cup

confectioner sugar

1

tablespoon

orange blossoms water
Othe ingredients
2

tablespoons

cooking spray
Instructions
Put all your ingredients in a large bowl; then knead very well with your hand or with a cake stand mixer with the help of flat cake attachment of dough

Slowly combine your ingredients until they become very well incorporated; then cover and let your dough rest for about 2 hours and while you are waiting for the dough to rest; prepare your filling by mixing your ingredients together

Once the time is over; start forming small ball portions of the dough and cover it to prevent the risk of drying

Press one piece of the dough into a flat shape; then add in one tablespoon of the pistachio filling into the middle and wrap the prepared dough around to cover the filling very well

Press the dough very well into the mold ball shaped dough; then tap over the counter

Lay the cookies over a sheet pan with a parchment paper or a non-stick pan

Bake your Ghraiba in a preheated oven at a temperature of about 400 degrees for about 20 minutes

Remove the cookies from the oven and let cool for about 10 minutes; then dust with sugar and sore into an airtight container
Notes
Nutrition Information
Calories: 214   | Fat: 7.3 g | Carbohydrates 31.2 g | Fiber 1.2 g |Protein:  7.3 g