There is nothing more beneficial than this nutritious eggplant casserole that is rich in nutrients and vitamins. You can't miss this unique recipe with the great pack of benefits it provides you with.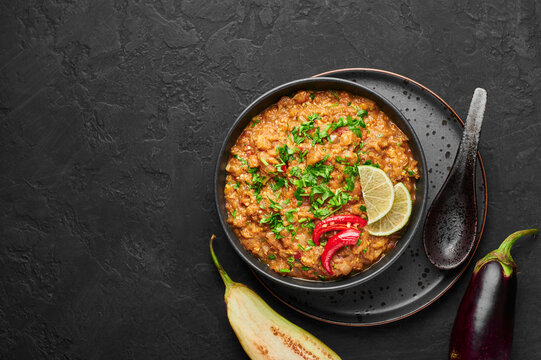 Eggplant Casserole
The egg plant casserole is one of the popular dishes as it is very filling and hearty, due to the its rich mixture of yoghurt and eggplant.
Ingredients
2

medium

medium-large sized eggplant

300

g

minced lamb or beef meat

1

small

onion

¾

teaspoon

Salt

1½

black

pepper, mixed spice, cinnamon, cardamom, coriander, ginger and turmeric
The Yogurt ingredients
2

cups

yogurt

(500 g)

2

teaspoon

tahini paste

1

garlic clove

2

Large

pita bread cut into cubes
The Sauce ingredient
2

garlic cloves

6

medium

tomatoes

1

hot green pepper

(optional)

1

tablespoon

tomato paste

1

tablespoon

of black pepper, mixed spice, cardamom, cinnamon, coriander powder.

2

tablespoon

pomegranate paste (debs roman)

(optional)

2

tablespoon

chopped fresh coriander

1

cups

vegetables or chicken( broth or boiled water
Instructions
Mince the onion and crush the garlic.

Add the minced meat into a skillet.

Top with onion, garlic and vegetable oil and cook over high heat.

Cover and reduce heat to low about 15 - 20 minutes or until the meat is well cooked.

Remove the cover and cook 2-3 more minutes on high heat.

Cut the eggplants into small cubes. Fry in vegetable oil or lay them into a baking sheet, drizzle with olive oil and bake on high heat for about 20-25 minutes. Stir occasionally to prevent the eggplants to stick to the baking sheet.
Instructions for the Sauce
Mince or crush the garlic، cut the hot green pepper into small pieces, cut the tomatoes into small pieces.

Fry the garlic slightly in olive oil until golden.

Stir in the hot peppers over the garlic. Stir for one minute

Stir in the tomatoes for 2 minutes.

Add the tomato paste, pomegranate paste (if used), spices and the stock.

Simmer on medium heat for about 20 minutes.

Add the chopped fresh coriander and the fried eggplant cubes.

Close heat.
Serve Fatteh:
Cut the bread into medium size squares and fry in little vegetable oil. Or drizzle some oil and bake in oven. Stir occasionally until golden brown.

Add the yogurt, tahini paste, salt and garlic into a bow. Whisk until well-combined.

lay evenly the fried bread into a large serving dish about 40cm.

Pour the cooked sauce with the eggplant over the bread. (a thin layer)

Spread the prepared yogurt evenly on top of the sauce.

Spread the cooked minced meat evenly on top of the yogurt.

Garnish with minced fresh parsley and pine nuts. Serve.
Nutrition
Sodium:
66
mg
Calcium:
40
mg
Vitamin C:
34.7
mg
Vitamin A:
1250
IU
Sugar:
11
g
Fiber:
5
g
Potassium:
1039
mg
Calories:
90
kcal
Monounsaturated Fat:
0.1
g
Polyunsaturated Fat:
0.2
g
Saturated Fat:
0.1
g
Fat:
0.5
g
Protein:
4
g
Carbohydrates:
21
g
Iron:
4.3
mg