Chocolate truffles are easy to make, sweet and tasty, it won't take you more than a few minutes to make this delicious recipe. We publish to you the followers of the Merecipes website, the method of making chocolate balls. Chocolate is one of the most delicious types of sweets that is presented on all occasions, whether birthdays or special parties. It is characterized by a charming and delicious taste, which attracts people, especially children, and can be used in preparing many sweets such as balls. Chocolate, which we will explain in more detail of its ingredients and instructions.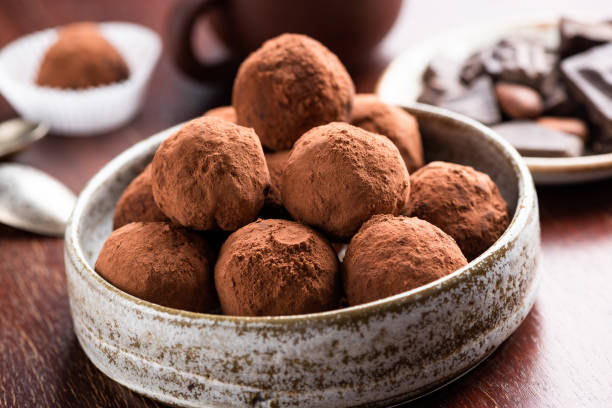 Chocolate truffle
Ingredients
cup

A creamyof milk

2

cups

dark chocolate cut

1/2

cup

sugar powder

For decoration : -

sugar powder

Cocoa powder, crushed nuts, pistachios and coconut (preferred and available)
Instructions
Place the cream in a thick bottom pot over medium heat until boiling begins.

Cut the chocolate into small pieces or preach the fruit, taking into account not to hold it by hand for a long time so as not to melt.

Flatten the chocolate in the cream well until completely merged and lift off the fire.

Add the powdered sugar and stir constantly until the contents merge well and leave until cool.

Form chocolate with a circular spoon into walnut balls and set aside to become rigid.

Roll in the powdered sugar (or cocoa / nuts / pistachio / coconut) by placing a little sugar or cocoa powder in a tight bag

And put the balls inside it and close well then stir until the balls are completely covered and put in the fridge for 20 minutes.
Nutrition
Calories:
250
kcal
Fat:
8
g
Protein:
9
g
Carbohydrates:
12
g