Maqluba, which features a blend of Arabic flavours is one of the popular and favorite dishes in Palestine,
and it has become a popular and main dish in many Arab countries, especially the Levantine, Iraqi and Jordanian cuisines. The origin of the "Maqluba" dish, which has authentic, popular? and historically Arab roots, goes back to Palestine. It is known in the Jerusalemite community as "the victory eater", as its name goes back to the leader
Salah al-Din al-Ayyubi, and the "upsidedown" meal was associated with the day of the liberation of Jerusalem, and many sources confirm that "the reason for its name dates back to the period of the Ayyubid conquest of Palestine in 1187 ADHere is how to make one of the most popular types of maqluba, which is Chicken Maqluba (Makluba).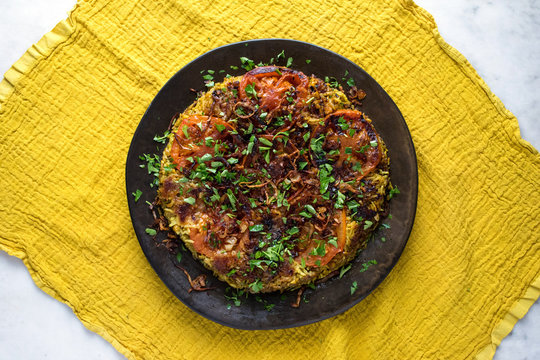 Chicken Maqluba (Makluba)
The maqluba is one of the delicious and beloved dishes of many Arab peoples, and it can be made in several ways and with different additions.
Ingredients
2

lbs

of chicken cut into strips.

2

lb

of rice.

2

pieces

of eggplant

sliced.

2

sweet potatoes

cut into slices.

3

medium

sized onions

1

teaspoon

Of all spice

2

bay leaves.

1

teaspoon

of turmeric.

A little quantity of cinnamon powder.

1

cup

of chicken soup or chicken broth.

2

tablespoons

of Vegetable oil.

1

pinch

of salt

1

Pinch

of pepper.
Instructions
Wash the chicken well and cut it into slices

Put the chicken it in a saucepan containing a little oil

Flip the chicken on both sides until it browns a little.

Add 2 chopped onions to the chicken and continue to stir them together until the onions soften.

Add the cinnamon, turmeric, salt and pepper

Add the bay leaf to the previous mix.

Add an appropriate amount of water to the mixture and leave it on a low heat until it softens.

Wash the eggplant well and cut it into slices, then add salt to it and leave it for 15 minutes.

Take a frying pan and put a lot of oil in it, then fry the eggplant, and put it on kitchen paper to get rid of the oil.

Fry the potato slices in the eggplant oil, but don't let them turn golden, then remove from the heat and place on kitchen paper.

Put the onion cut into slices in the same oil, fry it, then remove it from the heat and remove it from the oil.

Wash the rice well and soak it in water for 10 to 15 minutes, then drain it well, and it is ready to use.

Put a little oil in a large saucepan, then add the eggplant and potato slices, topped with the chicken slices, and then another layer of eggplant.

Lay a layer of rice on top, and gradually add chicken soup or chicken broth, covering the rice and letting it simmer.

Remove the maqluba from the heat after it is fully cooked, and turn it into a suitable serving tray.

Serve and enjoy your chicken Maqluba
Nutrition
Sodium:
325
mg
Sugar:
2
g
Fiber:
3
g
Calories:
233
kcal
Saturated Fat:
8
g
Fat:
11
g
Protein:
9
g
Carbohydrates:
12
g