There is nothing more appetizing than a delicious Berry trifle layered with berries, custard, jelly, mascarpone and jam rolls in addition to Turkish delight.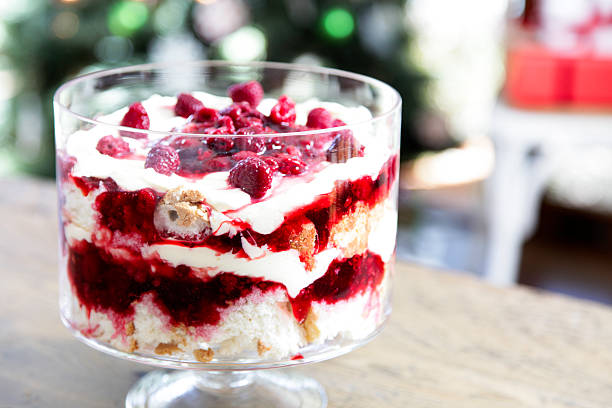 Berry Trifle
This super easy and tasty dessert is perfect for any occasion or after dinner, you will love it. And what is more attractive and exciting about this recipe is that it is rich in vitamins and nutrients thanks to the use of fresh fruits in it.
Ingredients
3

x 9g sachets lite vanilla berry jelly crystals

1/2

Pound

of halved strawberries

2 1/2

Cups

of raspberries

2

x 1/2 lb of tubs mascarpone

1/2

x 2 lbs of double thick vanilla custard

1/2

lb

of packet jam mini rolls

cut into thick slices of 1cm each

3

tsp

of rosewater

300

ml

of pure cream

1/4

cup

of caster sugar

1

tsp

of vanilla extract

1/4

lb

of Turkish delight

sliced

1/4

cup

of pomegranate seeds
Instructions
Start by preparing the jelly following the packet directions.

Pour into a glass trifle dish of about 4-litre-capacity

Refrigerate for about 2 hours or just at beginning to set (mixture should have a thick, syrupy consistency).

Stir in the berries; then refrigerate for about 4 hours, or until everything is set.

Place about half of the mascarpone in a large bowl

Whisk until everything becomes smooth.

Fold through the custard; then spoon the custard mixture over the mixture of the jelly

Top with the jam mini roll slices; then drizzle the jam mini roll slices with about1 teaspoon of rosewater.

With the use of an electric mixer, beat the cream, the sugar, the vanilla and the remaining mascarpone

Add in the rosewater until soft peaks form

Spoon the cream mixture over the jam mini roll slices.

Serve and enjoy your trifle!
Nutrition
Sodium:
187
mg
Calories:
517
kcal
Fat:
36
g
Protein:
6.5
g
Carbohydrates:
41
g