The lifestyle of Muslims changes in Ramadan, and any one practicing the fasting has a valuable opportunity to adopt a healthy lifestyle, which in turn contributes to reducing the general weight of the body and controlling the level of blood sugar. And it is important to follow a healthy and balanced diet throughout the year, not just during Ramadan. A Ramadan Meal should be balanced and healthy at the same time; it should include healthy and nutritious food, which includes different types of ingredients and dishes. So that the fasting person obtains all the nutritional elements that the body needs, and one of the most important things that must be taken into account is eating food slowly and not in a hurry.
Any Ramadan Iftar should be divided into two phases, as it is recommended to start by eating some dates, drinking water, and then eating soup, which helps control the amount of food the fasting person eats. As for the second stage, it is desirable that the main course should be after the completion of the Tarawih prayer. And here are some of the dishes you can start your first day of Ramadan with:

All kinds of soups are allowed, provided they are free of fats; such as vegetable soup rich in vitamins and dietary fiber, freekeh soup rich in dietary fiber, or lentil soup rich in minerals and iron. It is also preferable to avoid eating ready-made soups, which you get from the shops, as it lacks vitamins and contains large amounts of salt. And here is a suitable soup recipe to start with:
Soup Recipe : Mushroom Soup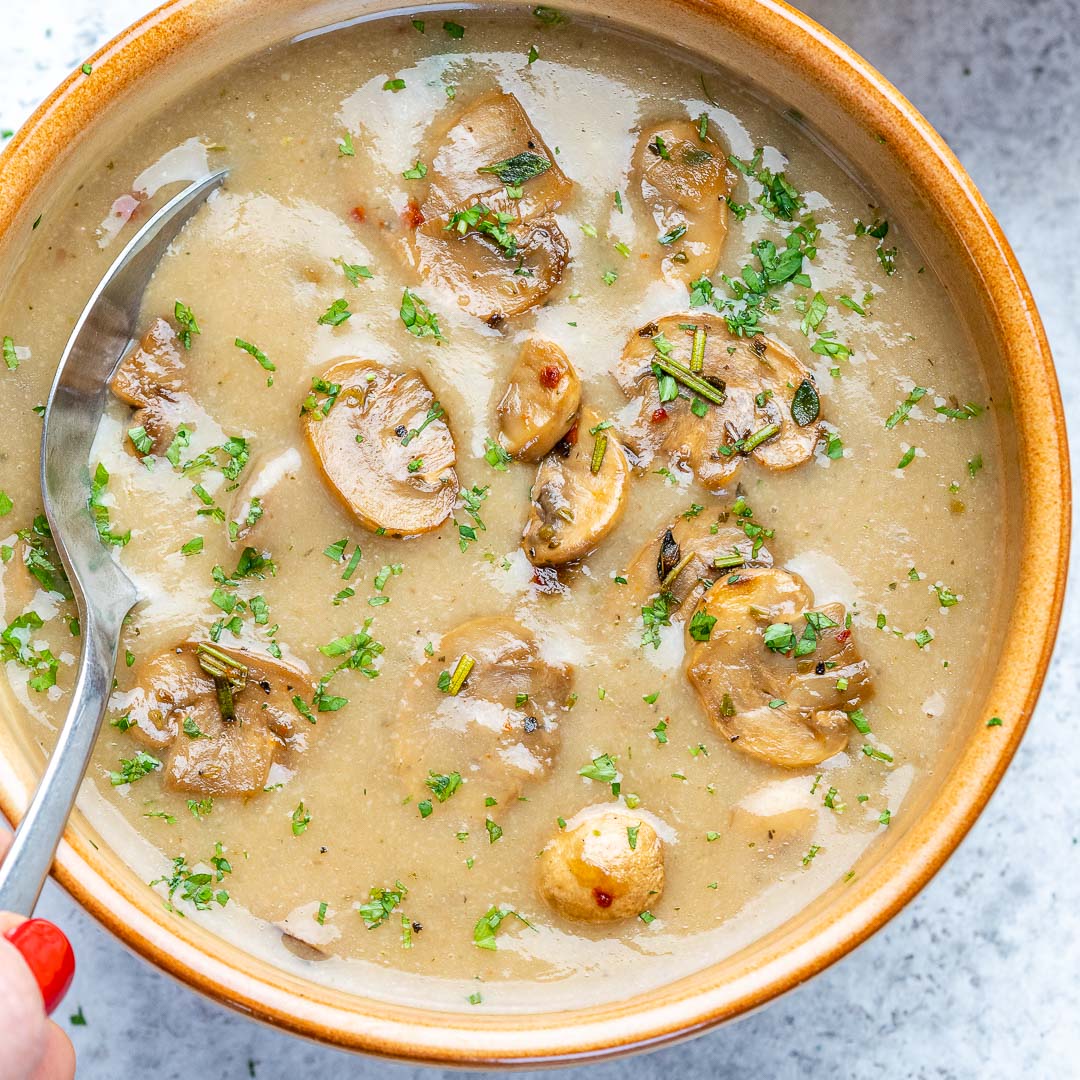 Ingredients:
1 ½ Tablespoons of olive oil
½ Tablespoon of chopped fresh sage
1/3 lb of sliced mushrooms
33 Cups of vegetable or chicken broth
1 Pinch of salt
1 Pinch of pepper
¼ Cup of heavy cream
Instructions :
In a large pot and over a medium high heat, heat the oil over a medium high heat for about 3 minutes
Add in the sage and cook for about 1 minute
Add in the mushrooms and stir to coat very well; then sauté until the mushrooms are perfectly tender and lightly browned for about 4 to 5 minutes.
Stir in the stock and bring the mixture to a simmer; then cook for about 4 to 5 additional minutes
Transfer your ingredients to a food processor or a blender
Process your ingredients until they become smooth
Return to the pot and stir in the cream
Serve and enjoy your soup!
2. Main Dish: Lamb Freekeh with peas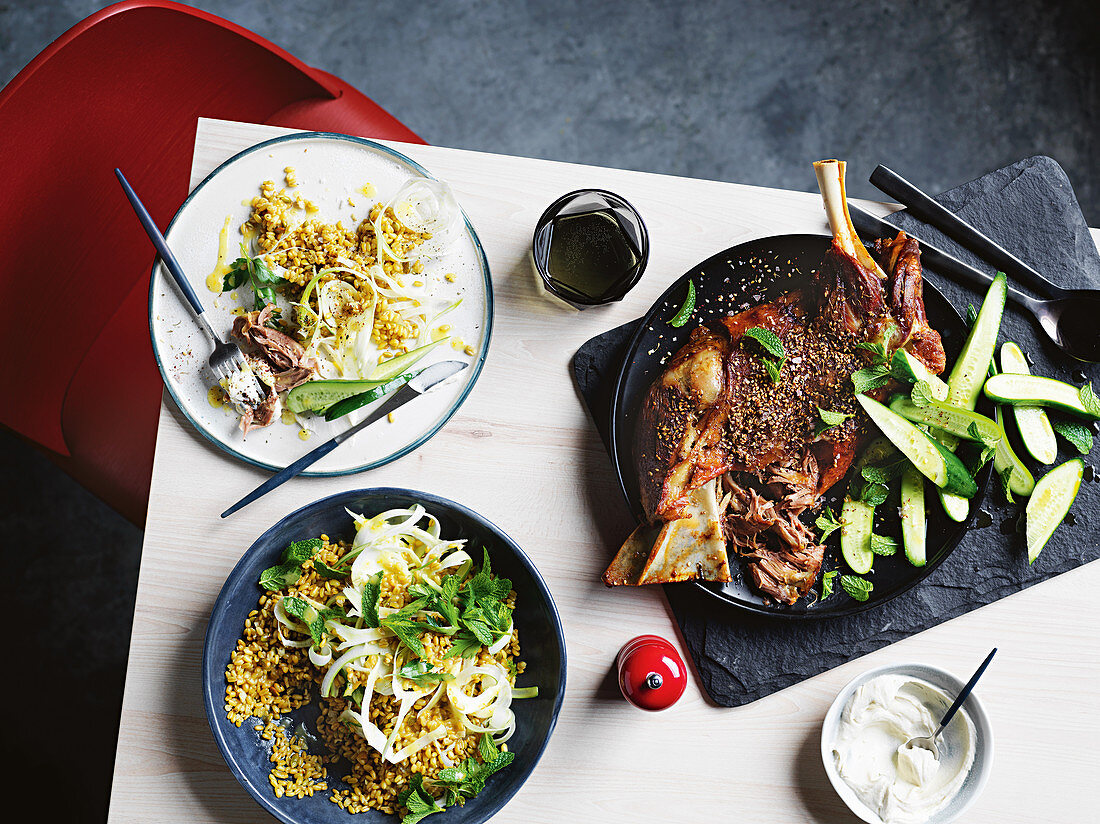 Ingredients
2 Pounds of freekeh
1 Pound of lamb, cut into cubes
A medium-sized hen
A large onion
1 Pounds of boiled peas
3 mastic pieces
Cardamom, pieces and ground
2 Bay leaves
¼ Teaspoon of Curcuma
1 Pinch of cumin
1 Pinch of coriander
1 ½ Tablespoons of ghee
1 cup of olive oil
2 garlic cloves
1 Pinch of salt
1 Pinch of ground cinnammon and 1 cinnamon stick
7 Cloves
1 Red pepper
3 star anise grains
Nuts to serve almond cashew nut
2 Tablespoons of butter
Instructions:
Start by cleaning the freekeh; and to do that wash it very well, then soak it for half an hour into water
Put the meat in a pressure cooker with cardamom, mastic and bay leaf with two cloves
Add in the cinnamon stick and add in a bit of salt to the water; then boil for about 45 minutes
In another saucepan, put the 8 pieces of chopped chicken with half onion and two cloves of garlic, green pepper, lime, coarse spices with turmeric and salt.
Let simmer on a low heat while adding a spoon of butter and stir until it absorbs all the liquids.
Pour in a liter of boiling water and let simmer on a low heat to perfection; then brown it into the oven after brushing the top with butter, spices, and a little quantity of cream
In a Tefal or any non-stick cooker, put three-quarters of butter with half a head of onion, finely chopped with spices, cinnamon, turmeric and star anise and stir very them well on a low heat until it becomes golden
Add in the freekeh that has already been soaked and drained until it drains up from the water; sauté with the meat with half a cup of chicken boiled water, so that the water is more than the level of rice
Let simmer on high heat for about 10 minutes
In the chicken boiled water, boil the peas; then drain them. Braise the meat with the remaining butter, add in the peas with the spices and set aside until serving the freekeh
Sprinkle a spoon of almond, cashew and walnut on top
After the freekeh is cooked, pour it into the serving plate, then pour the meat and peas over it, decorate the edges of the plate, cut the grilled chicken and the last thing decorate the plate with nuts
Serve and enjoy your sumptuous dish
3. Dessert Recipes: Blueberry Smoothie
Ingredients:
1 Cup of frozen mixed berries
1 Fresh or frozen ripe banana
½ Cup of low-fat vanilla yogurt
¼ Cup of orange juice
1 Teaspoon of honey
Instructions:
Combine all of ingredients all together in a food processor or a blender
Puree your ingredients until it becomes smooth
Serve and enjoy your smoothie!
Enjoy your Iftar!
Drink enough water between Iftar and the pre-dawn meal to supply the body with fluids during the day. Avoid consuming soft drinks when eating breakfast and the pre-dawn meal, because it negatively affects the digestive process and fills the stomach with sugar, in addition to the lack of nutritional value of these types of drinks and their effect on weight gain.