Serve this old and well-known oriental dessert, Anise Basbousa as well as this special recipe, and prepared in advance to be served cold to the guests, and decorated with various nuts as desired.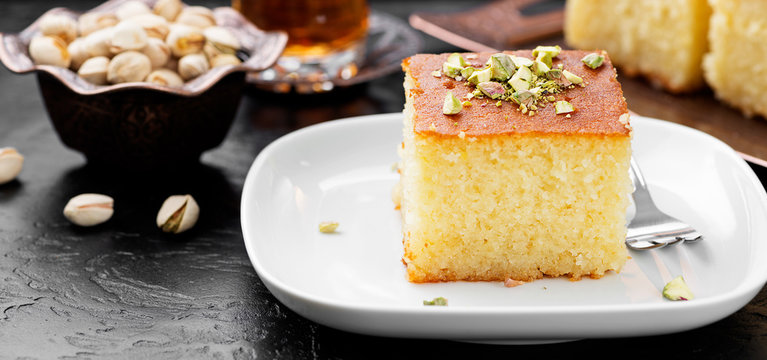 Anise Basbousa
An oriental dessert dish that is somewhat close to the fenugreek in shape and to the harissa in texture, pour it very well with syrup; this recipe is very tasty and delicious, try it now.
Ingredients
3

cups

of semolina

1

Glass of all purpose flour

two tablespoons of sugar

two tablespoons milk powder

Tablespoon

Yeast

two tablespoons ground anise

two tablespoons black sesame

two tablespoons Roasted Sesame

a cup only a third Vegetable oil with olive oil and 4 tablespoons of ghee

Glass Hot water with two tablespoons of anise

we leave it for 15 minutes together

1/2

cup

water according to the dough

for the syrup:

2

cups

sugar

2

cups

Water

squeeze lemon

Tablespoon

ghee
Instructions
First, the syrup is to add sugar and water to the fire until it boils and the sugar dissolves. Leave it for 5 minutes. It boils over a low heat, then add lemon juice and a tablespoon of ghee and turn off the heat along.

In a bowl, add semolina, flour, two tablespoons of sugar, powdered milk, yeast, black seed, sesame and ground anise, then mix well.

Pour vegetable oil mixed with ghee and olive oil, then mix by hand with semolina until it is homogeneous with each

Before we put a cup of hot water with two tablespoons of anise and love it and leave it for a quarter of an hour, then pour it on the semolina gradually and knead it

Then we add to it half a cup of water, and continue to knead to have a cohesive dough

Grease the tray with butter and spread the dough by hand so that it is an even surface and define it cut with a knife as desired, cover and leave for an hour to rest

Place the tray in the oven at a temperature of about 180°C/360°F, the heat is from below until the edges are brown; then turn on the heat from above until the face becomes golden

Bake for about 20 to 22 minutes

Remove the tray from the oven; then pour over the syrup

Cut, then serve and enjoy your dessert!
Nutrition
Sugar:
4
g
Fiber:
3
g
Calories:
266
kcal
Saturated Fat:
3.2
g
Fat:
6
g
Protein:
11
g
Carbohydrates:
366
g