Qatayef is one of the most popular Ramadan sweets that are served with many fillings. Here are the most delicious recipes for preparing Qatayef dough, and Qatayef with cream and nuts.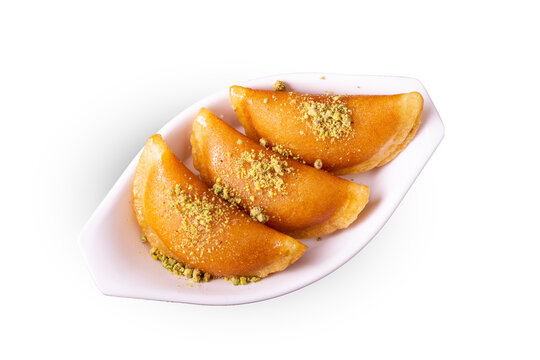 Qatayef
In the following recipe, we are going to learn how to make sumptuous Qatayef. Get ready to enjoy the amazing taste.
Ingredients
2

cups

all purpose flour

1/4

cup

fine semolina flour

1/2

tbsp

instant yeast

2

tbsp

sugar

1/2

tbsp

baking powder

1

tbsp

corn starch

2 1/2

cups

water

2

tbsps

mixed nuts, crushed finely

1/4

tbsp

green cardamom seeds
--For Filling :
Regular white cheese unsalted

Walnuts mixed with a little sugar, Cinnamon powder
--For Syrup :
3

cups

sugar

1 1/2

cup

water

1

tbsp

lemon juice,

2

tbsps

rosewater (optional),

2

tbsps

orange blossom water (optional).
Instructions
--Syrup preparation :
Place all the syrup ingredients in a saucepan. Stir well and let it simmer for 5-10 minutes over medium high heat until the syrup thickens to some extent.
--Filling :
Now place each pancake on a baking tray and place 1-2 tablespoon of cheese and walnuts in the center.

Fold the pancake in half and seal the edges with the help of your thumb and index finger.

Bake in an oven at 200 C (400 F) for 5-7 minutes or fry it in oil (medium high heat for 5 minutes) or remain it as it is, in all forms it is delicious.

Sprinkle a pinch of cinnamon powder on each Qtayef

Serve qatayef with syrup.
Nutrition
Calories:
350
kcal
Saturated Fat:
6
g
Fat:
10.9
g
Protein:
6
g
Carbohydrates:
15
g