Among the world's kitchens, the Egyptian cuisine is present with its different touch, which carries with it a number of popular dishes whose taste you will not find anywhere in the world, except in Egypt. If you find a similar taste, you will not find the Egyptian atmosphere that gives everything a different taste, and among the popular dishes we offer you today this koshari recipe.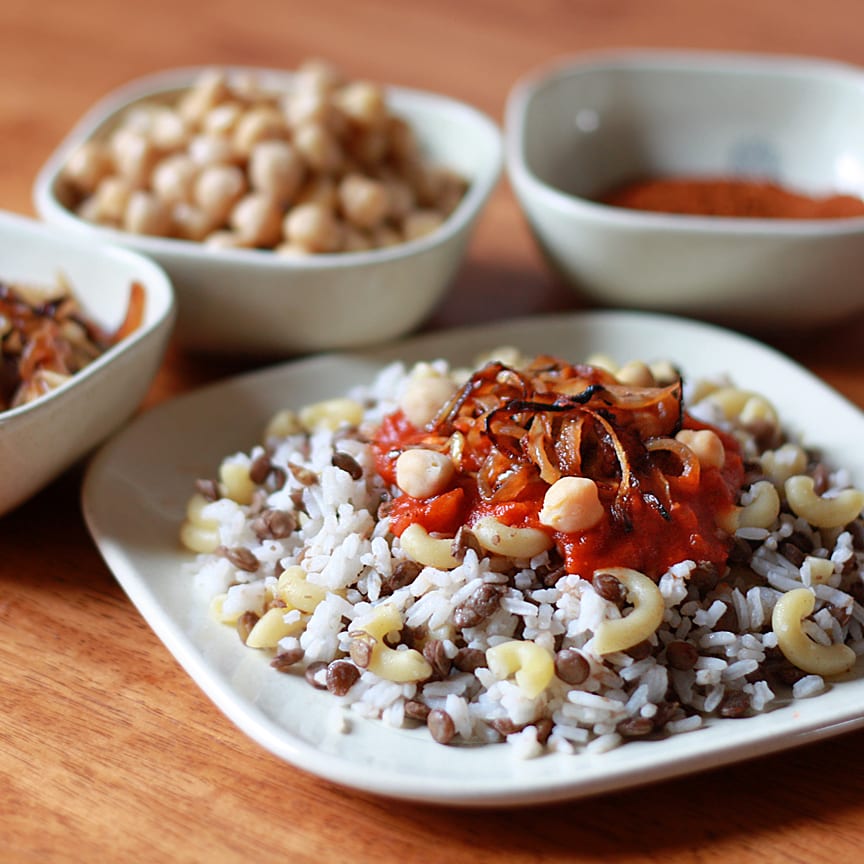 Koshari
Koshari is an Egyptian dish that the Egyptians love by heart, and they deal with it differently, because koshari is one of the dishes that women in Egypt are able to cook in a distinctive way, and despite that, the koshari shops have their audience, which is not It differentiates between the rich and the poor.
Ingredients
1

cup

brown lentils

1

cup

rice

1

cup

pasta

small shells/elbow shape macaroni

2

onions

chopped

4

clove

garlic

minced

2

tablespoon

oil

1

teaspoon

vinegar

1

teaspoon

cinnamon powder

1/2

teaspoon

black pepper

1

teaspoon

Salt

1

cans of tomato sauce

1/2

teaspoon

red chili flakes
Instructions
Soak the lentils and rice separately for about 30 minutes.

In about a liter of salted water in a pan, cook the lentils.

Let it bring to a boil, then low the flame, simmer and cover it for about 15-20 minutes until lentils become quite tender.

Then add rice and simmer until the rice are cooked, add water if necessary.

In a separate pan, cook the macaroni. When properly cooked, rinse and strain them. Set them

Add oil in the separate pan and fry garlic and onion in it, until become golden.

To make a sauce, add tomato sauce, chili flakes, salt and pepper, vinegar and cinnamon powder in it and let it bubble for about 10-14 minutes or until thickened and become sauce like. Blitz the sauce in blender until smooth.

Now mix together the rice, lentils and macaroni in a bowl. Place some lentil mixture and top with the prepared tomato sauce.

Cooked chickpeas can also be added. Sprinkle some chilli flakes over it. Delicious koshari is ready to serve.
Nutrition
Calories:
266
kcal
Fat:
3
g
Protein:
6
g
Carbohydrates:
12
g