The Middle Eastern tablesare never devoid of oriental sweets like this Kanafeh Pastry , especially during the month of Ramadan, and we will introduce you to the method of making kunafa in more than one way.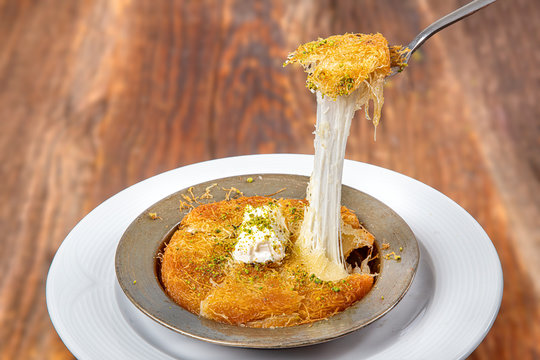 Kanafeh or Cheese Pastry Soaked in Sugar Syrup
Ingredients
--For the Sweet Knafeh Cake :
1/2

can

of condensed milk (of 400 gm)

unsalted, butter

2

cups

milk

2

cups

cream

2

tbsp

cornstarch

1

tbsp

rose water

2

lbs

(900 gr) shredded mozzarella cheese

1

cup

syrup

2/3

cup

pistachios, roasted, chopped.
--For Syrup :
3

cups

water

3

cup

ssugar

2

tbsp

lemon juice,

1

tbsp

orange zest, for aroma.
Instructions
--For Knafeh
Combine the milk, sugar, cream,rosewater and corn starch in a bowl.

Pour this mixture in a saucepan and bring it to a boil. Reduce the heat and stir the mixture continuously until it becomes thick.

Remove it from heat and let it stand to cool. Transfer this mixture with the cheese into a blender and blend until smooth.

Loosen the kadaifi noodles with your hands, add melted butter and combine well ..Spread a layer of buttered kadaifi on a baking dish, completely covering the base of the dish.

Spread the cheese mixture over the kadaifi noodles. Spread another layer of kadaifi over the mixture. Press it gently with

Preheat the oven to 180 degree Fahrenheit. Bake it for 30 minutes or until top turns golden

Garnish with pistachios and serve with syrup.
--For Syrup
Add all the ingredients for syrup in a sauce pan and bring to a boil.

When it gets thick enough, remove it from .

Let it stand to cool and then pour on knafeh while serving.