Fasulya – Turkish White Beans with Chicken is a recipe that is based on beans, which are known for being a magical and nutritious ingredient; it is not only packed with protein, fiber, vitamins and nutrients, including magnesium, folate and B6, but it can also help regulate the level of glycemy in our blood.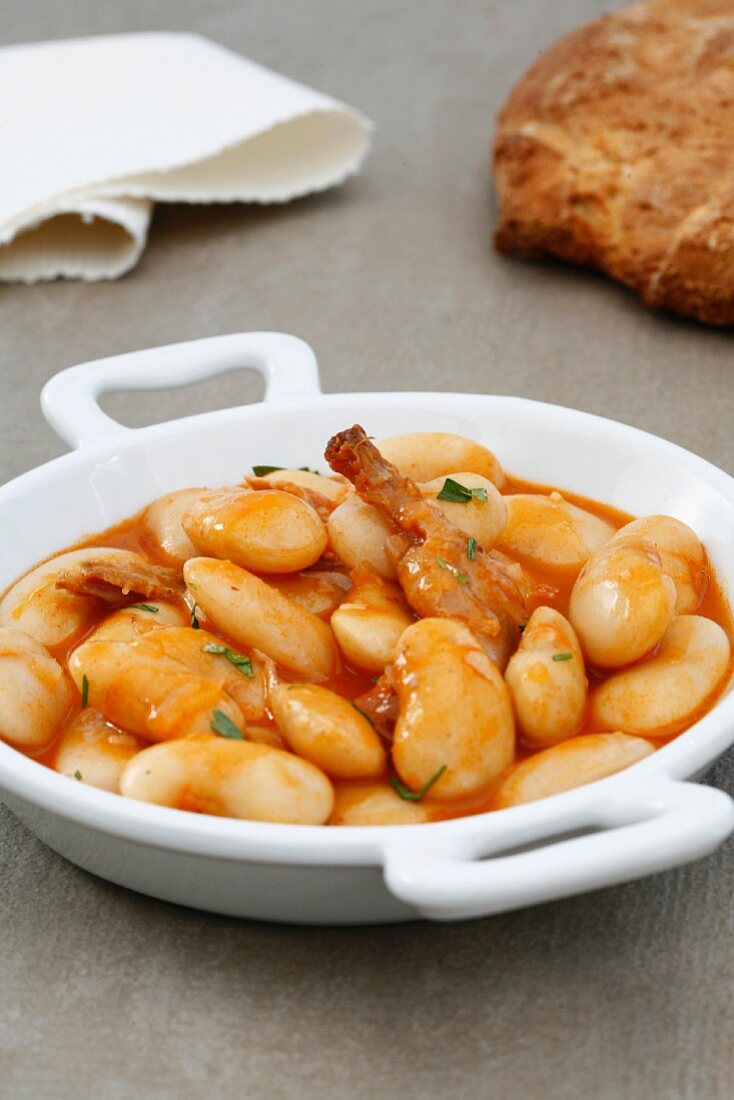 Fasulya - Turkish White Beans with Chicken
What is better than this sumptuous Turkish dish that no one can resist its taste. Fasulya - Turkish White Beans with Chicken is known for being one of the most popular Turkish dishes that are present on all Turkish tables and that can even be found in its restaurants and this popular dish has been adopted not only into the Arab cuisine, but also onto the international level. This recipe is usually served whether for lunch or for dinner thanks to the wide array of nutrients it provides the body with. It is considered as a complete filling meal that is not to miss at all costs.
Ingredients
1/2

pound

Cannellini white beans, or pea beans

1

piece

Dry red bell pepper, (whole)

1

piece

medium sized white or red onion, (finely chopped)

2

tablespoons

extra virgin olive oil

2

pieces

Carrots, finely grated

1/2

pound

chicken breast (cut into cubes), or chicken legs

1/2

tbsp

Salt, fine

1/2

tbsp

black pepper, freshly ground

1/2

tablespoon

red pepper powder

1

tbsp

red pepper flakes

1/4

tablespoon

sugar

Sugar is used in this recipe to alleviate, if exists, the sour taste of the tomato paste

1/2

cup

parsley, coarsely chopped

2

cups

water

1/2

cup

black olive
Instructions
Start by draining the white beans; then rinse it very well under cold water and set aside

Heat the extra virgin olive oil in a heavy saucepan; then add the finely chopped onion, the garlic, the whole dried red pepper, the grated carrots and saute your ingredients for about 7 to 8 minutes.

Add cubed chicken to the pan, and stir for 1-2 minutes.

Add the tomato paste, the sugar and mix very well with the chicken and the other ingredients.

Cover your saucepan; then lower the heat and let your mixture simmer on a low heat for about 20 to 25 minutes.

Add in the beans and the water; then mix gently so that you don't risk crushing the beans.

Sprinkle the black pepper, the red pepper flakes and the salt.

Cover the saucepan, and let your ingredients cook for about 10 additional minutes over a medium heat.

Sprinkle the parsley on top and mix very well; then add in the black olive and mix very well.

Serve your delicious dish with plain rice or just with pita bread and enjoy its amazing taste!
Notes
Nutrition Information
Calories: 379.2, Fat: 5.8 g, Carbohydrates: 47.3 g, Dietary Fiber: 8 g, Protein: 33.8 g