Kleicha  is an old folk dessert, made in different shapes, its original home is Al-Qassim region in Saudi Arabia, and an annual festival is held for it. The Qassim women excelled in preparing the kleicha, and they contributed to the spread of this golden pastry with a distinct taste, and it is considered one of the best types of homemade foods made by elderly women. Women excelled in the way of marketing the Kleicha in a modern, civilized manner, through various social networks such as Instagram and Twitter, and delivering the Kleicha in tin cans through express delivery companies.
The Kleicha is a main type of pastry in the homes of the affluent and wealthy in Qassim, and it was one of the most expensive gifts offered to a friend or visitor from outside Qassim, in addition to being an essential element among the gifts that the bride prepares when she moves to her husband's house, and it is a habit that some still adhere to this day.
So if are you looking for a healthy Middle Eastern dessert recipe that you and your children will love, there is nothing better than tasting this Kleicha recipe. And here you will learn one of the easiest ways to make this recipe.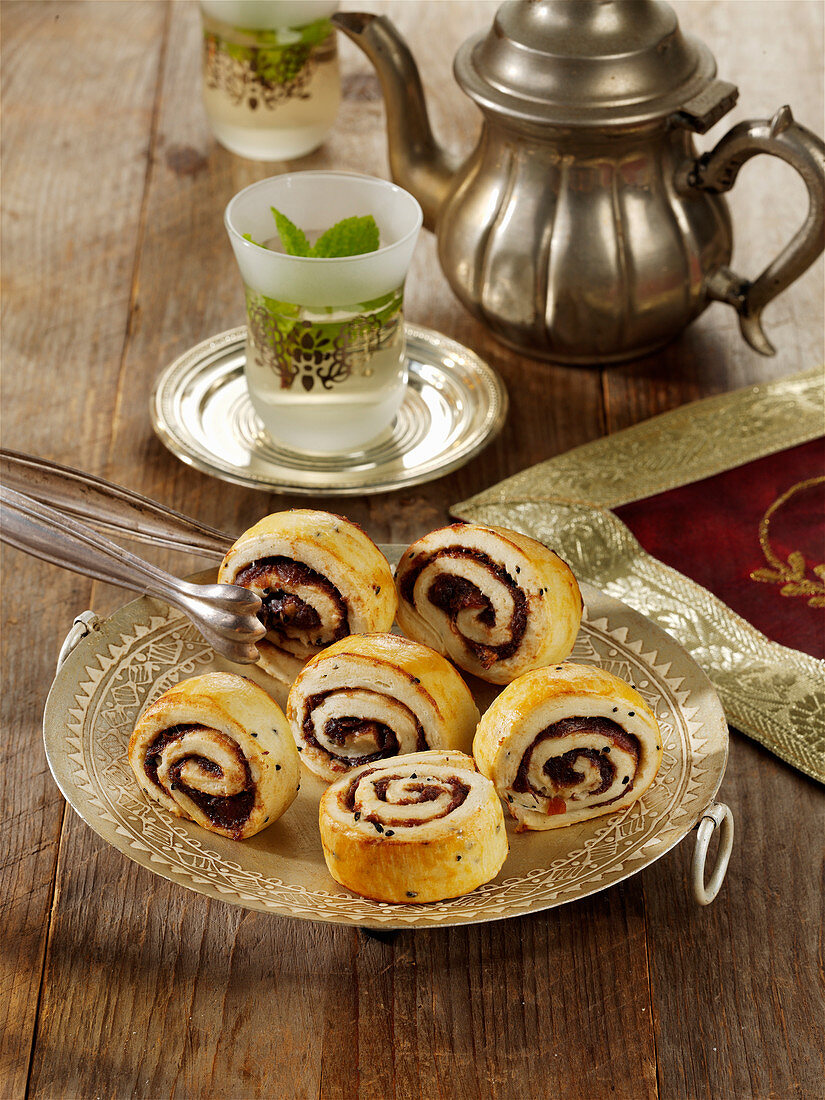 Kleicha
Kleicha is a type of dessert of traditional sweets served in abundance in Iraq, and the Levant, Saudi Arabia, and some neighboring countries, which are sweets stuffed with dates, honey, sugar, and other tasty fillings
Ingredients
1

lb

of flour

1/4

teaspoon

of salt

2

tablespoons

of sugar

1

teaspoon

of yeast

1

teaspoon

of baking powder

1/2

teaspoon

of ground cardamom

1/2

cup

of vegetable oil

1/4

cup

of warm water

1

pound

of crushed dates
Instructions
In a bowl, put the flour and salt and stir.

Add the sugar, yeast, baking powder, cardamom and oil. Rub the ingredients with your hands until smooth.

Gradually add water and keep kneading until you get a cohesive dough.

Cover the dough and leave it for a quarter of an hour to rest.

Take a medium amount of dough, and roll it out with a rolling pin.

Take two tablespoons of the date filling, shape it vertically and place it on one side of the dough.

Roll the dough on the dates in the form of a roll, then cut it into the size you want.

Repeat this process until the quantity runs out.

Arrange the kleicha in an oven tray on a parchment paper and put it in a preheated oven at 180 ° C/360°F until it is cooked and browned, for 20 minutes.

Serve and enjoy your Kleicha!
Nutrition
Sugar:
5
g
Fiber:
1
g
Calories:
230
kcal
Saturated Fat:
1
g
Fat:
2
g
Protein:
3
g
Carbohydrates:
15
g